Do to how forums work your limited to just having a small avatar. So this thread is to give the art justice. And because I'm curious. So post your avatar in full resolution and if you know the artist way not give them credit.
So I guess I start. art by ueshita.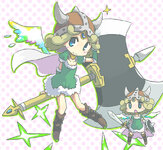 Never edited this post after I changed avatar so here you go.
Last edited: