yay its back, I can forget I run this site again
Note: I'll be moving this to a more appropriate forum at a later date so keep your jew mitts off Shizu
Well sorry for no coherent thread here just thought this was pretty important/interesting.
Kiwifarms, notorious Kiwi Raising forum seems to have been knocked out for the time being by a rather intense DDoS attack, as for why this is important, the nature of the attack and its timing
Josh/Null made a twitter thread here explaining what's happening
(
Archive
/
Tweet
)
As for why it's suspicious. Well like Null says it's been occurring since the Chris-chan news dropped, I'd say its safe to assume whoever is doing it wants to keep info of it on the downlow due to Kiwifarms being basically the only place for reliable Chris news. The theories at the moment are that it's Bellas parents (Bella being the person who essentially groomed Chris into plowing his mother) using their connections to pull this off and cover for their daughter.
Some Twitter Theorists:
Twitter
||
Archive
Twitter
||
Archive
Twitter
||
Archive
Isabellas thread: (taken from
knowyourmeme
(
a
), click on it to open the full size)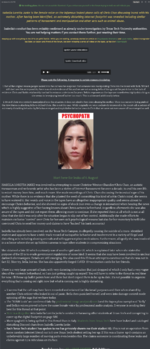 The sad part is there are a few twitter retards who're celebrating Kiwifarms going down, but I don't expect much from them in the first place
Feel free to call me a looney or whatever else, (
also please correct me if I got anything wrong
) but I thought this is fairly important info that should be shared somewhere.
I'm not much of a thread writer so apologies on that.
@Hibiki
come fix it
Till it comes back feel free to use this for chris-chan stuff, or ranting theories about Kiwifarms being brought down by feds.
or maybe share a recipe, I'm getting tired of eating take out
Last edited: