Since
isekai
doesn't seem to be very popular around here, I'll try other genres, I don't know if I'll create a thread for each thematic genre probably not since I'm very lazy, so if someone wants to go ahead with another genre they like/hate go ahead.
I don't have an interesting introduction for this genre so I'll get straight to the point.
as in the other thread you can start by answering some of these questions.
What do you think of the genre?
Which yuri have you watch hat are the worst and why?
which yuri do you like the most or do you think are the best and why?
Do you think the genre is declining in popularity? [had this question any sense here?]
if u like yuri, why u like it?
if u dislike yuri, why u dislike it?
of course also feel free to recommend any yuri or add anything else you want.
*I put the thread in the Anime section of the forum because I think it's the most general way to approach this topic, but, if the moderators allow it of course, feel free to cover novels, games and manga as well.
Anime is also the section I know the most about, so...
---
in the isekais thread I didn't do this but at least I should do it here lol
1. I love the yuri genre, so far I've enjoyed all the series I've seen centered on this [which are not many to be honest], although I've always watched any kind of anime, since quiets years ago I've started to develop a strong attraction for this kind of anime... a quite dangerous one.
2. I think the worst, and one that was quite overrated at the time, is
Citrus
, don't get me wrong, I like Citrus up to a certain point, but it has a lot of problems that I can't ignore, maybe another one would be
Akuma no Riddle
.
3. of the ones I have seen and focusing specifically on yuri romance, and not as something secondary, the one I liked the most is
Yagate Kimi ni Naru
, which is quite recent. It is a very nice anime, which shows some simple problems in a very curious way and reflects them very well in the protagonist, which in fact is an excellent main character, the good thing about this anime is how well raised is the mentality of the characters and their evolution within the things that happen to them, also has the plus of having an excellent production. There are also the well known classics
Sakura Trick
and
Sasameki koto
.
4. well I don't know if this question has any meaning here since this genre has never been a particularly popular one, but I do feel that people are slowly confusing yuri with any moe anime, and actually many of these anime have some yuri touches [and I'm not complaining] but I do feel that the classic style of romance is being left aside a little bit... but well this is just my own rant.
5. because yuri has cute girls kissing and that's cute and it stimulates my heart and my emotions and .... ok no one is believing this shit.
we all know why I see yuri anime.
Edit: I said that, but I think really are cute and emotional
6. if you can answer this question then you are not human.
I am not an expert in yuri anime so any recommendation is always welcome.
some recommendations that I can make from some of the lesser known ones are:
Sono Hanabira ni Kuchizuke wo
: one of the few hentai yuri I've ever seen, there are
two series
and short episodes, I think I should take a look at the manga.
Ga-Rei: Zero
: I don't know but I loved this series when I saw it many years ago, although I don't remember too much and the series is somewhat complex and confusing.
Kuttsukiboshi
: are two short OVAs that tell a small but nice story, don't expect much quality in the production, it's practically an amateur project.
Edit: I leave this image here because... I don't know, because it's cute.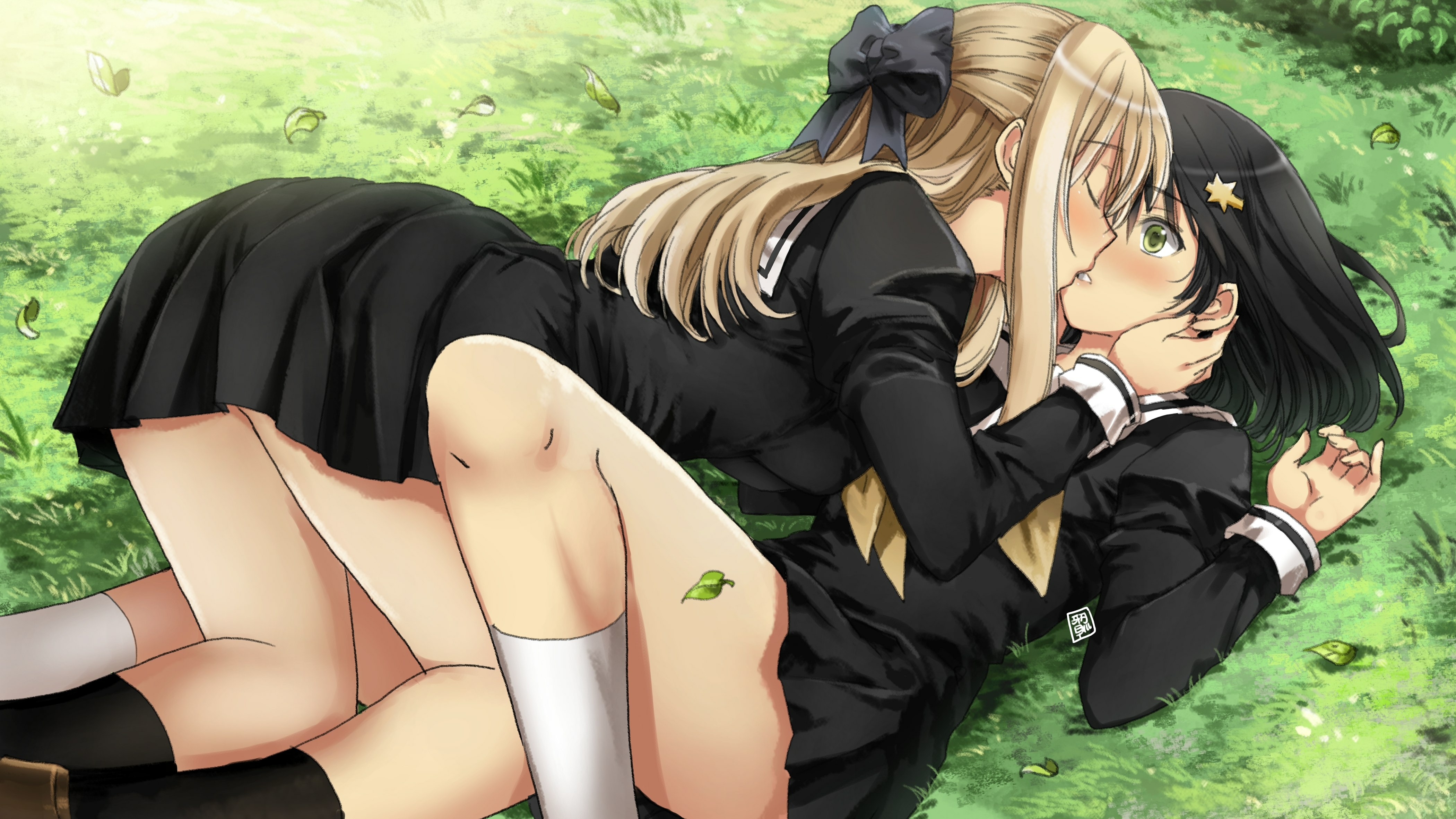 Last edited: