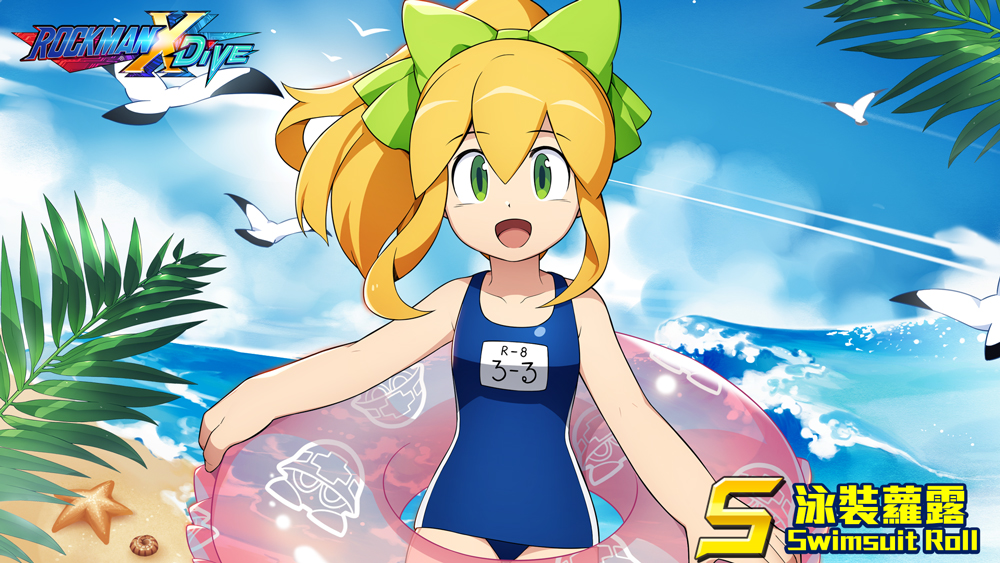 ​
According to Capcom, the change was made to meet the age requirements on application platforms (Such as the PlayStore).
The game rating is E for everyone, in comparison Azur Lane, known for having cultured skins, is rated as Teen.
Optimization and adjustments:
1. Regarding Swimsuit Roll's 3D model and 2D artwork changes
Although the original design for Swimsuit Roll was based off the design from past, there will be changes in order to meet the requirements of age ratings on application platforms. We have decided to apply the changes after discussing with the "Rockman team" in Japan.
The concept of the new design will be Roll enjoying the sunshine on the beach and swimming pool. A blue skirt type swimsuit will be used to express her cuteness.
We hope players will like the brand new "Swimsuit Roll"
Character "Swimsuit Roll" 3D model and 2D artwork changes is scheduled on update 14 July 2021 15:59 (UTC+8).
The skin was replaced for the right one.

Some people said it has the trans rights color scheme
​
But in my opinions the "age rating" is just an excuse, otherwise, why would they change specifically her and not the other characters with even more revealing swimsuits?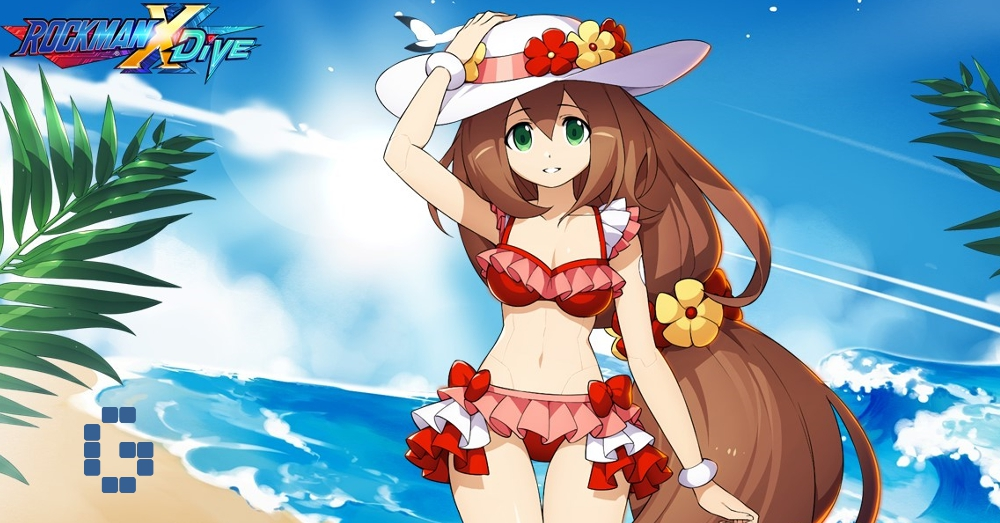 ​
I think this has nothing to do with age ratings and more with Capcom listening to the complains of the usual mentally unhinged social media users.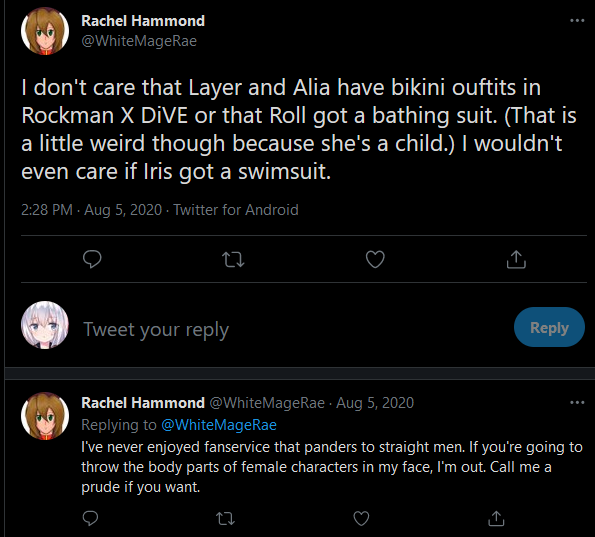 Additionally last year an internal capcom document was leaked where they talked about how they wanted to move away from "sexualization", plus other things like the importance of diversity.
This was on a resetera post.
Archive
I spoke with @Jawmuncher & got approval to make this thread (he even helped me with the title), seeing as it's great news for Capcom going forward. Given that the quote in the other thread comes from a questionable source, I'll do bullet points instead.

The document cites Spider-Man: Miles Morales as a positive example of PoC representation, while The Last of Us Part II & Shadow of the Tomb Raider are cited as positive examples for LGBTQ+ representation.
They also talked about how Peach & Zelda are seen as negative stereotypes for women since they're typically damsels in distress, but also cited BotW as an improvement since Zelda takes a more pro-active role in it.
Sex appeal was cited as something that should be equal between men & women, and be mainly to serve a purpose within the context of the story. They want to move away from overly sexualizing, say, just the women.
Capcom even called themselves out on their past mistakes, including...

Rainbow Mika's butt slap in Street Fighter V
Monster Hunter World's armors for the female hunters being more revealing than their male counterparts
Dee Jay wearing a Rastafarian hat

Capcom also mentioned that they need to have cosmetics for all forms of characters be available.

Example Used by Capcom: Custom characters having any kind of haircut, facial hair, or body type

The document mentions a direct desire to move away from offensive stereotypes, only featuring certain ethnicities, & sexual/obscene language/jokes (unless they serve a legitimate story purpose).
Capcom even mentioned that they should reach out to various localizers to make sure that various content in their games are appropriate

Examples Used by Capcom: The use of "Happy Holidays" instead of "Merry Christmas", numbers/expressions that could reference the Nazi party, content regarding pigs in relation to Arab localizations, etc.

In short, Capcom seems to be making a conscious effort to improve from a representation standpoint. To use an often-discussed game that's basically an open secret thanks to prior leaks, I wouldn't be surprised if Street Fighter VI dials back the sexualization significantly going forward. Likewise, I wouldn't be surprised if they start outright saying that Poison is trans (& hopefully get a trans woman to voice her, especially given that

her current English VA turned out to be a shithead

).


​
Here is a NicheGamer article in more detail about the leak
The contents of the Capcom ransomware hack has begun leaking online, featuring news on Resident Evil, Monster Hunter, and other games; along with politically correct business strategies.
nichegamer.com
They praise The last of Us II and say that
Princess Peach
and
Zelda
are negative stereotypes of women......