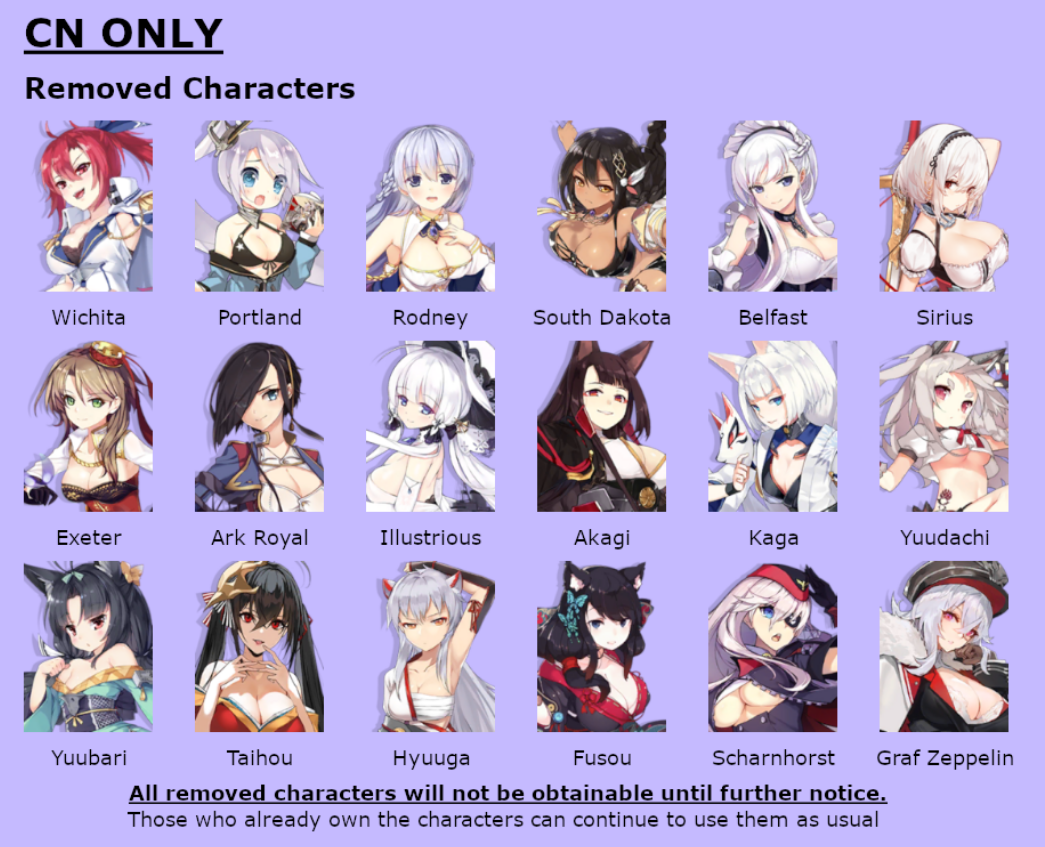 I've just been tipped off to a massive censorship wave happening over in China. it seems Azur lane has been hit by the CCP after getting reported and other gotcha game companies are getting spooked into primitive self-censorship
someone on Reddit said
/alg/ said it's because of CN Arknight and AL player base flame war on social network, and CN AK mass report AL to CCP.
It's 4ch, you can believe it or not
right now reasoning is speculative so take this as a rumour until more info can be gathered
I don't have an exact timeline as of right now but I'm going to try and post the info I have on each game I know is affected
Update 9/4/21
found an unconfirmed screencap of a 4chan post attempting to explain what is going on. going to put it here but should be considered speculation until proven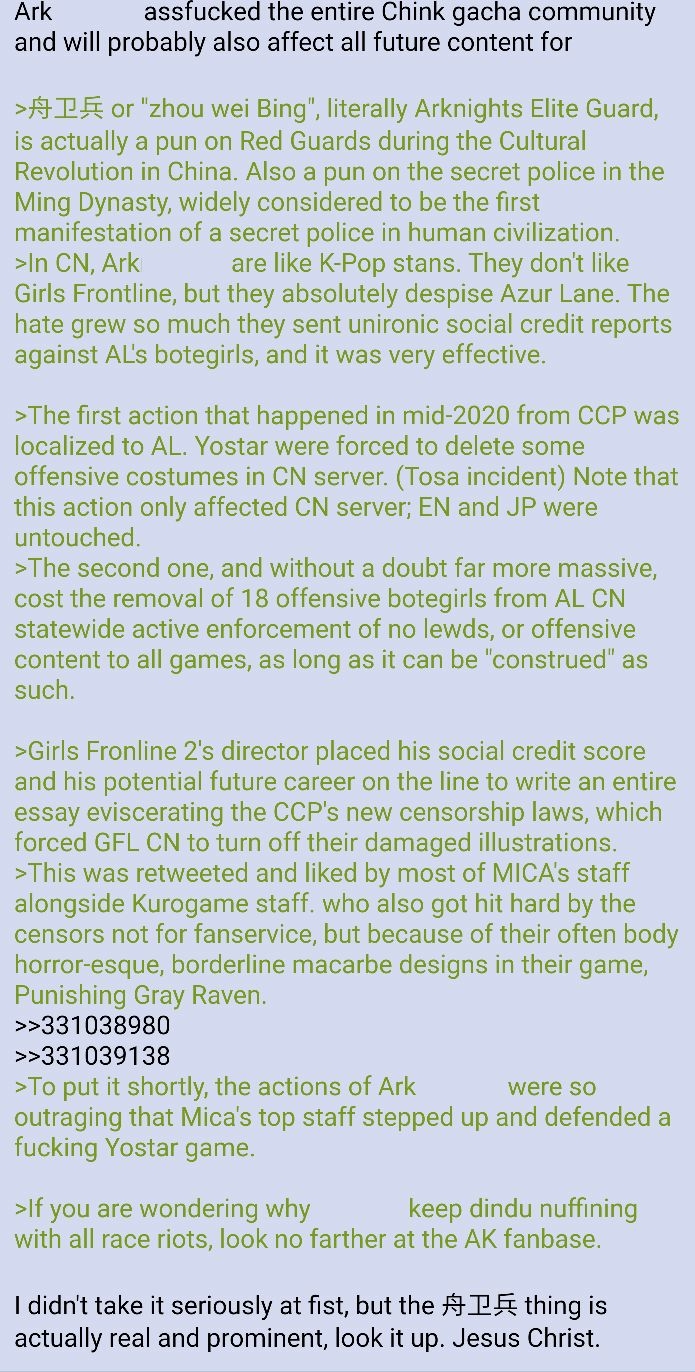 extra links to Billi Billi posts visa a Reddit post indicating this AK and AL shit fight has been a thing since 2019
link
/
archive
---
GIRLS FRONTLINE
as of now,
ALL DAMAGE ART HAS BEEN REMOVED FORM THE GAME IN CN
below is a link to the Reddit thread and a statement made by GFL2s director
Reddit thread
/
archive
the post from the GFL2 director
/
archive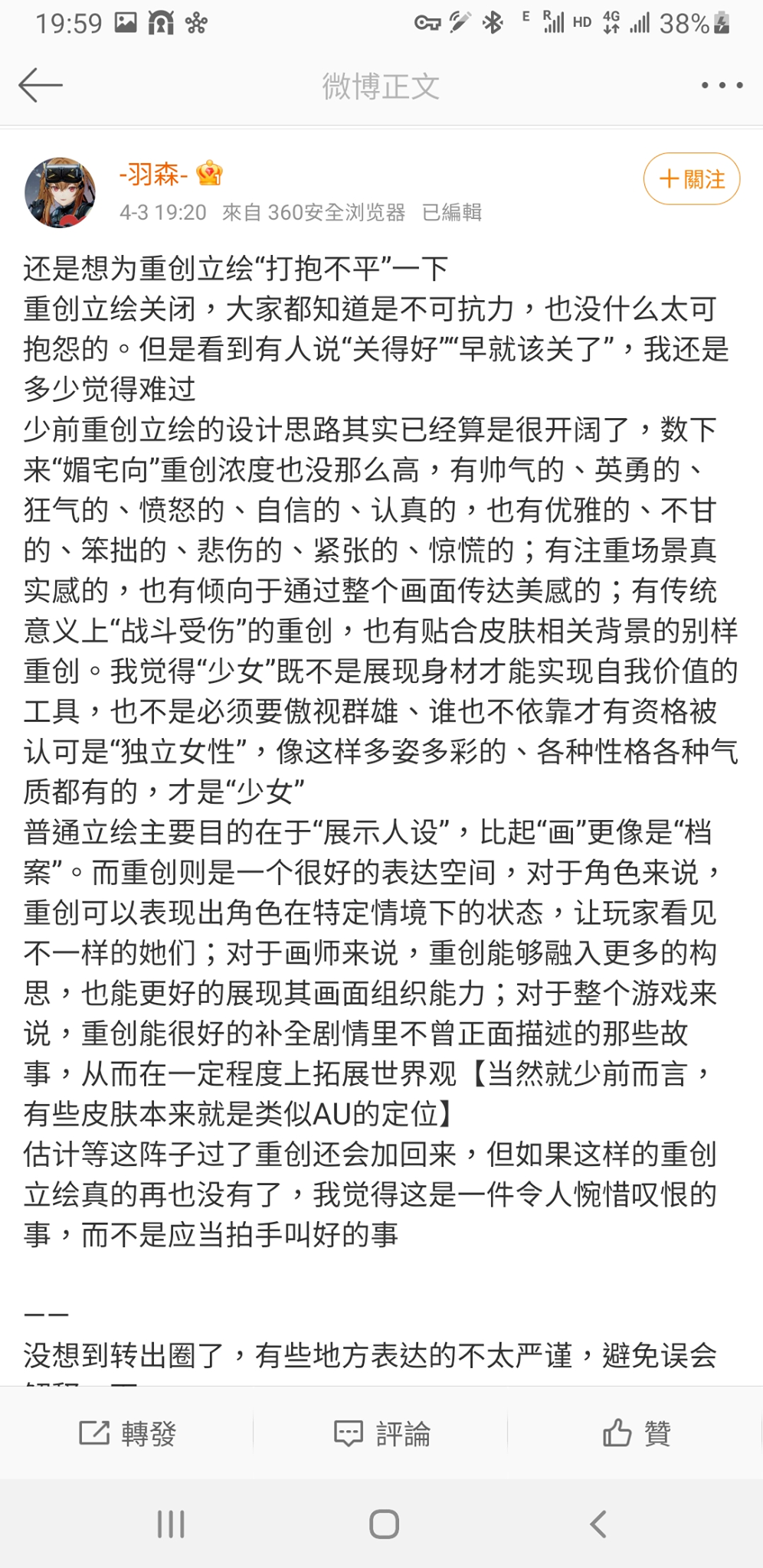 translated by someone in the Reddit thread
From the GFL2 director
(

Weibo translation

)

I feel like I should argue in favour of damaged art for the removal of the damaged art, everyone knows it's unavoidable, and there isn't much we can do. But seeing people saying things like "It's good that it's removed" "It should be removed a long time ago", its pretty heart-wrenching. The themes for GF's damaged art is pretty broad, in terms of "lewd combat", there isn't a lot of it, there is handsome dolls, heroic dolls, crazy dolls, angry dolls, confident dolls, serious dolls, graceful dolls, there's clumsy dolls, sad dolls, nervous dolls, panicked dolls; there are designs that put focus on a realistic scene, there are designs that focus on pure aesthetics, there's the traditional "battle damaged" style, there's also akintight designs. I feel that GF is trying to show that a "Girl" doesn't need to show off their figure to have value in life, neither do they need to be stoic and independent strong women. Someone with several diverse and a variety of traits, that's a "girl".Normal art for the dolls is pretty much more of a "profile" than an artwork, while damaged art is a good place for an artist to show their character. Showing the players a different side of the doll in a fixed scenario, for the artists, they can put more interesting ideas into the damaged art, and more importantly showcase their own design skills. As a whole for the game, damaged art lets the game showcase things that the story is unable to show, and in a way, expand the world-building of the game[Of course for GF, some skins are so out-of-character that they're basically AU]

I reckon damaged art will return soon, but if such damaged art is gone, I feel that this is a sad thing and not something to be clapping your hands I can't believe this blew up, so I'll be explaining some stuff to avoid misunderstandings.

The removal of this feature is not permanent. The reason for this was because Azur Lane was reported to the authorities multiple times, leading to our current predicament.
This article was mainly directed towards those who cheered at such closure. The subsequent regulations placed by the government are unjust too in my opinion.
The point is that Girls Frontline is not an IP that solely sells itself by fanservice. Around 40% of the dolls in the game are fanservice heavy (311/779). This is nowhere near the proportion that Azur Lane has, and even truer for later dolls where we allow our artists to exert more creativity on their art.
The pics that I chose are picked specifically to strengthen my point, and I think it speaks for itself
Fanservice is not inherently bad, even if this happened because of fanservice. Coom or no Coom, both have their own unique qualities.
How the damaged art comes out is dependent on the artist, and dependent on what we the devs need. The result is the hard work of both parties, containing the design philosophies from both sides of the aisle. This is something that should be applauded and not derided.
As I said before, we had to close this function temporarily due to necessity, and unfortunately, we might have to tweak some existing art after it opens again
We understand there are many complaints players have for Girls Frontline, and the same players also very well understand the game's defining strong points.
take this with some salt as I think it an MTL
reading some of the opinions on Reddit (yes Reddit's shit) are mixed with some being apathetic and others taking the anti-censorship stance
this is the end of the GFL part unless new info is posted
---
AZUR LANE
as of the April 8 Maintenance,
THE FOLLOWING CHARACTERS HAVE BEEN REMOVED FROM THE GAME WHOLESALE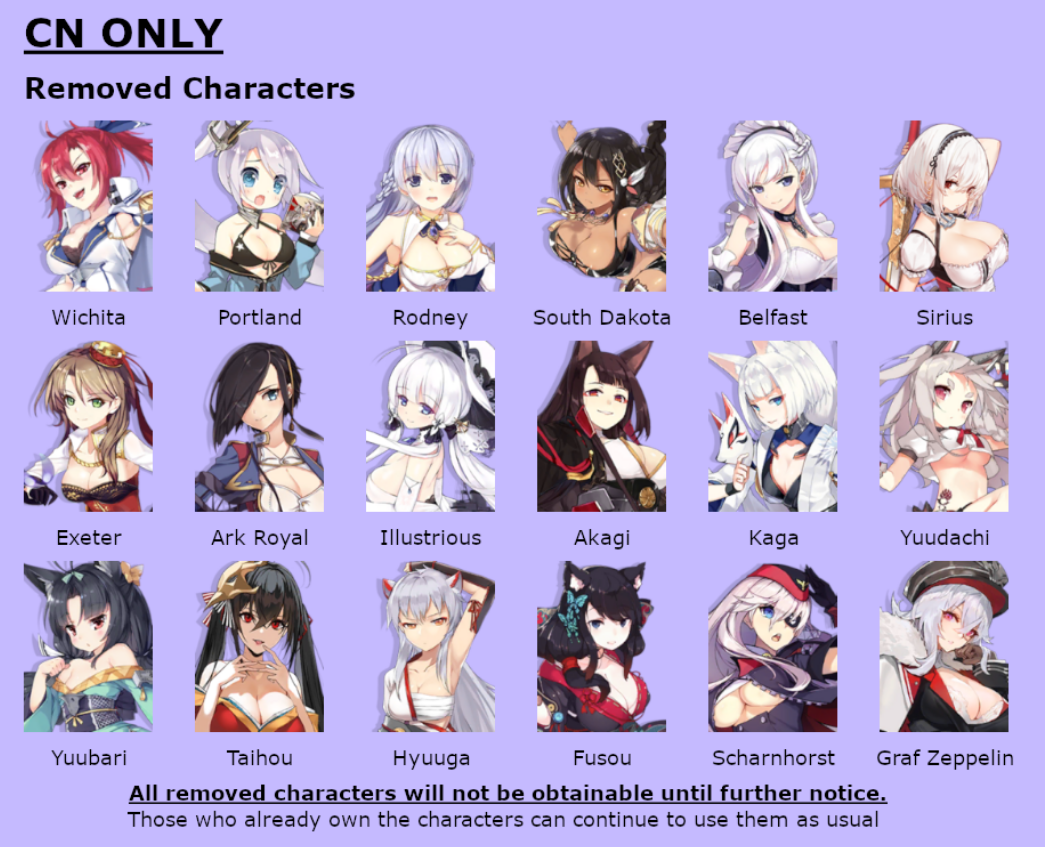 it is not known why it was these characters or if they will come back. I have less info on lane as all I have to go off is this
post
/
archive
---
if anyone has any news or updates regarding this please post and ill try to update the OP with new info when I can. this is a massive case and I want to try and have it well documented
wake the fuck up samurai, its time to use this subform for its intended purpose
Last edited: