What started as a comment on one of Shizus tweets led down a rabbit hole leading to this failed youtuber and seemingly self-hating lolicon.
the tweets are out of order so bear that in mind as you read.
Twitter:
Akamebigtits AKA Rin Plushie Vlogs!!!
(
Archive
)
Youtube:
KorewaSaber
(
Videos Archive
||
About Page Archive
)
Starting with his YouTube channel, it features several "loli reviews", of which he's bragged about on twitter quite a bit (most archived in this thread). They consist of a text-to-speech robot along with poorly mixed music drowning out the TTS, while loosely related images scroll across the screen . Thankfully they are short, only lasting 3 minutes at most, however that doesn't change the fact that they're amazingly bad, and borderline parody. In these videos he mentions his "loli persona" and wishing to date some of the lolis in the shows he covers with said persona. There really isn't much else to say about the videos they're basic and poorly edited.
His twitter was brought into the spotlight when he left the following comment on a post about kaijufangz, who is known for attacking Kyuotto when she first announced her model.
Tweet
||
Archive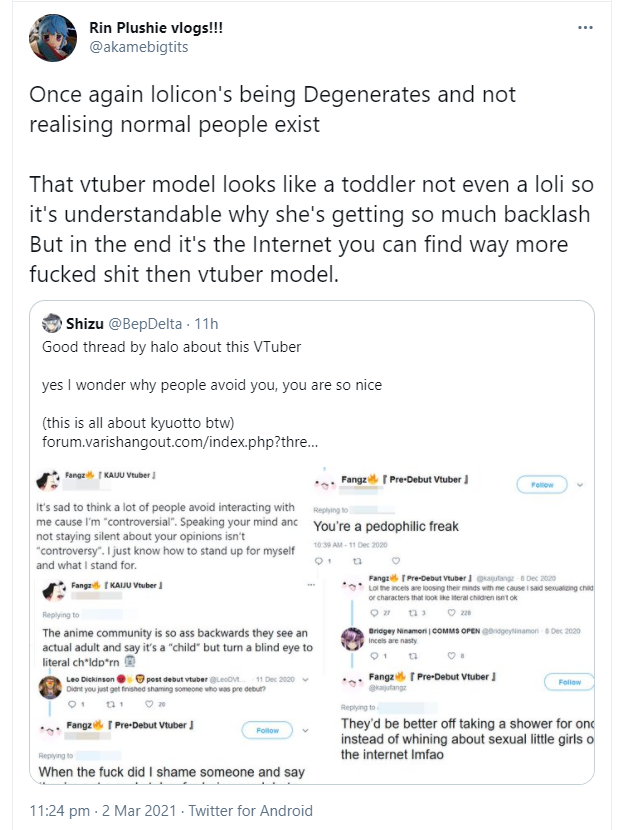 After a short look into his account you quickly find many posts that contradict each other, such as him saying "is this a underage girl giving the mc some special" (the girl being Megumin (see tweet/archive))
Tweet
||
Archive

as well as this tweet where he defends loli
Tweet
||
Archive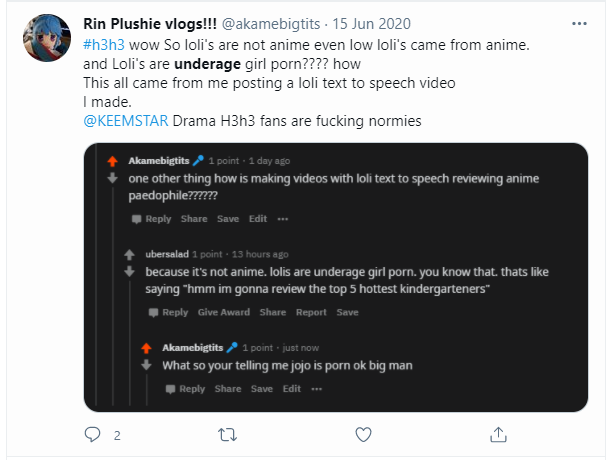 along with his self-proclaimed "lolicon mode", while showing off his loli merch.
Tweet
||
Archive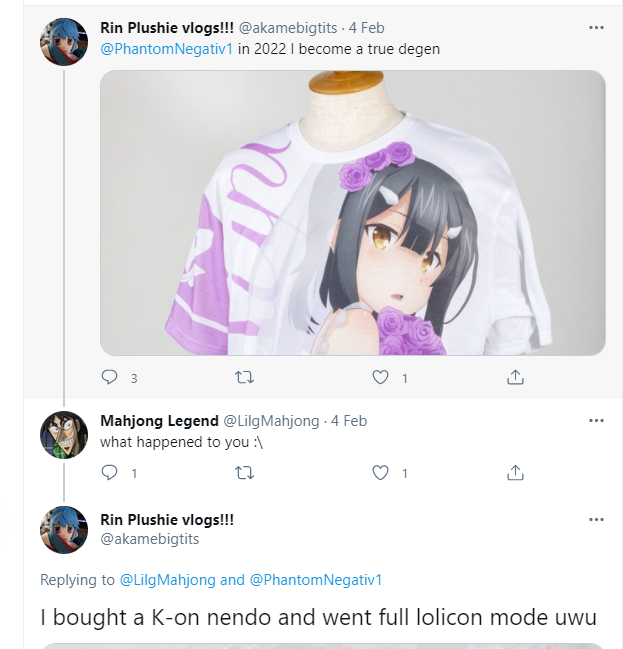 This one is especially damning since Monogatari is full of lolis, with the MC himself being a lolicon. If you dislike lolicons so much that you go on to say they need to see doctors why would you support this anime of all possible animes out there.
Tweet
||
Archive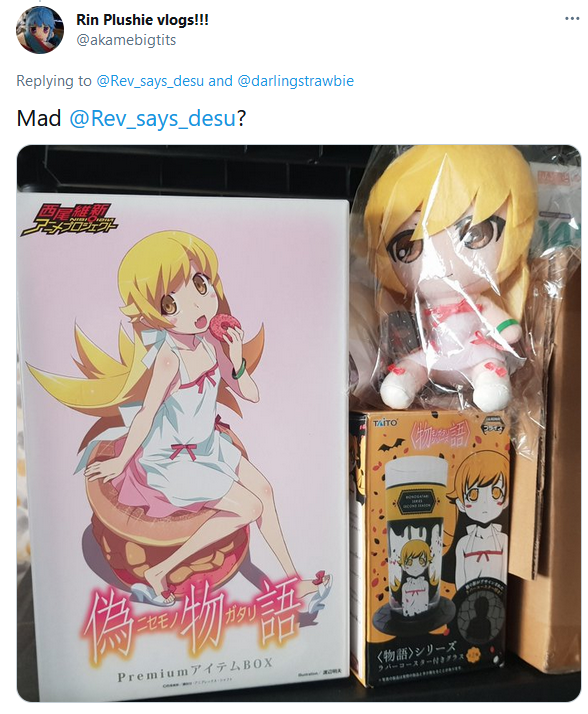 Then flipping the switch and making tweets where he is clearly trying to draw a connection between loli and
cp
Tweet
||
Archive

as well as implying a
fictional characters
age matters (unless its vtubers uwu). Yet also goes to defend Gawr Gura, who is well known for her shark cunny.
Tweet
||
Archive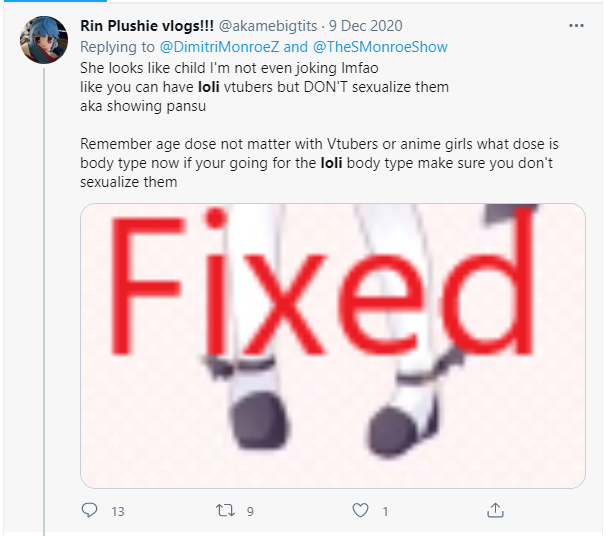 Tweet
||
Archive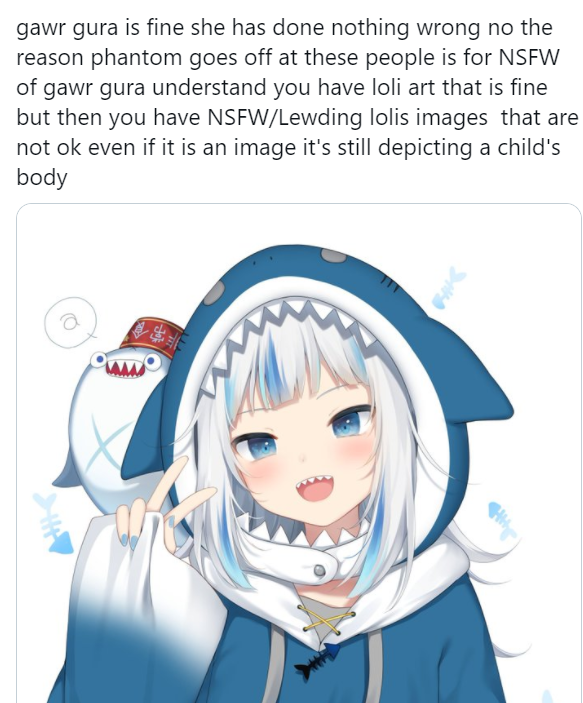 Outside of that he has tweets where he shits on lolicons, claiming they need a doctor (despite being one himself and uploading videos about lolis).
Tweet
||
Archive
and once again comparing drawings to CP.
Tweet
||
Archive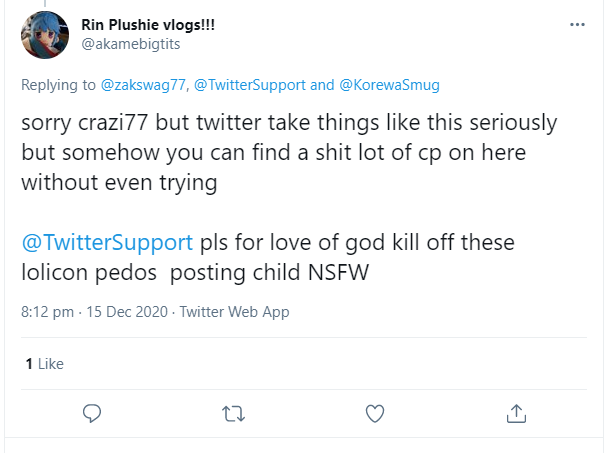 Tweets by year.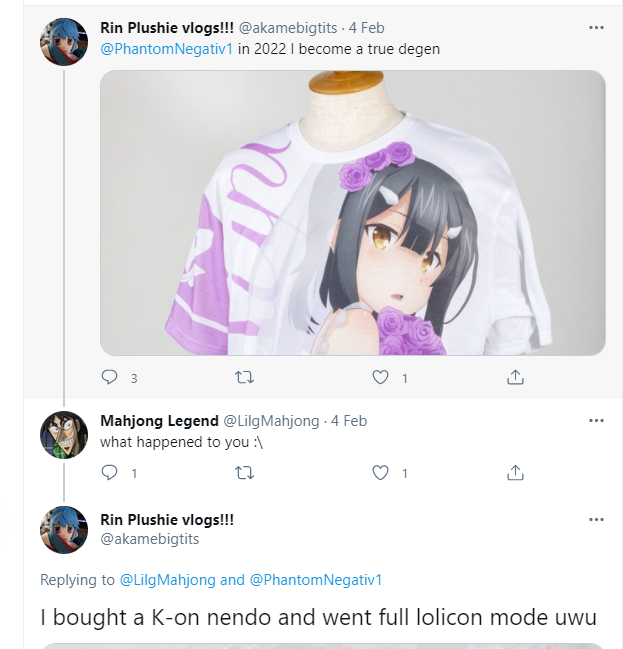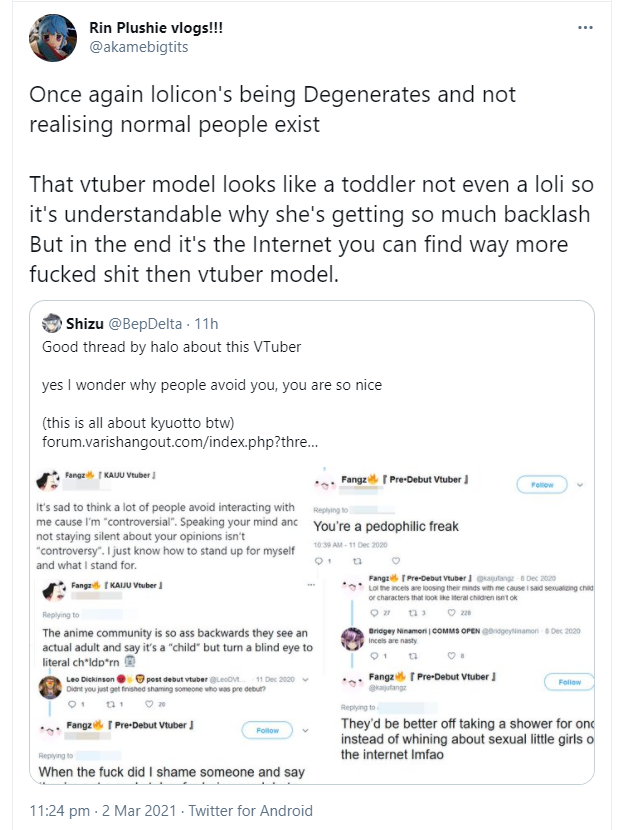 Despite sperging hard about not "sexualizing" lolis, the man partakes in it himself plenty, even directly helping the studios by buying their merch.
His 2D comment was on the verge of being aware, yet it quickly slipped away with the next lines.
Overall in the past 2 years he's flopped harder than a level 1 Magikarp
why is that the first thing to come to mind
with some of his switches being only days apart (such as the Rev Says Desu tweet, and then his comment on Shizus post calling lolicons "degenerates"). His switches make zero sense as well.
Clearly being a lolicon will lead him condemned by normalfags, yet shitting on other lolicons from atop his high horse will just lead them to hate him as well.
He's earned his thread by the complete lack of any self-awareness in any of his decisions.
Just make up your bloody mind all ready.
Last edited: