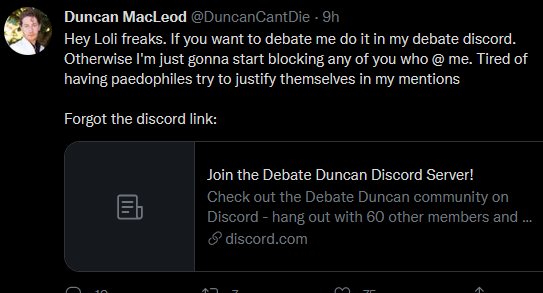 Forgive me for the Tweets I post here, as I am not familiar with the codes and stuff that let me turn them into spoilers. Forum posting isn't something I do often!
I don't have screenshots or archives, but I am going to give you all a rundown of some stuff that happened from about Nov 2019-Feb 2020.
For anyone wondering, DuncanCantDie is a Pokemon Twitch streamer and youtuber, where he uploaded videos of him doing "FFA" battles, however, recently he has switched to making videos about people and their antics, and so far he has seems to gain nothing from it, still not making over 10k views per video.
So, back in around maybe November 2019, he started talking about lolicon and why its bad and how its pedophilia, and he basically went around saying this up until maybe February 2020. It came up to a point where he literally made a short video on his YouTube channel telling his fans he is going to take a break from YouTube uploading because of lolicons.
There was also an instance of him going to Discord servers that disagreed with his loli takes, waving his Discord partnership, and basically went around saying with that that he could easily shut down Discord servers. (Correct me if I am wrong but I do believe he got his Discord partnership revoked because of that.)
At this point he started making threats, and because of that, lolitwt got his main and alt twt accounts taken down, including his Twitch's for a while.
It wasn't until about February 2021 when Duncan got his main Twitter account back up, and didn't really talk about loli since. I was convinced he knew what would happen if he talked about it again. Boy was I wrong.
just a few days ago, on his main YouTube channel, he uploaded this:
It is basically him talking to his followers on his stream talking about how lolicon is bad and how being sexually attracted to a anime girl that looks underage is pedophilia, also asking the question "why did you choose to jack off to her?" He then goes around reading comments from a Youtube video he disagrees with and Googles loli anime girls for the rest of the video.
Then after the upload, he made this Tweet:
Archive
and since then:
Archive
Archive
Archive
Archive
Archive
Before I end this, I want to mention that he is offering to debate with people over this however I do not recommend it, since he doesn't know exactly how debating works.
Around Christmas 2019, he and NotEvilJeremy debated and it came up to a point where Duncan just made ad hominem attacks and continuously interrupted Jeremy, to which i gave him the name DuncanCantDebate.
All in all, because he lives in the UK, he uses that as a way to say how loli is illegal, and he basically is just grossed out by it, and doesn't seem to realize that his own personal opinion is less important than legality.
UPDATE: Since he did a 3 hour long stream today talking about lolicons and since Shizu featured my thread on his Twitter, I wanted to add an update here.
In The Stream, Duncan did a debate with a girl (idk her @ or idek if she has one) and he basically called her pedo bait because of her body type. He explained that if anybody is attracted to her ebcause of her small chest and petite body, they are basically pedos. Someone clipped this and so far the Tweet associated with it is blowing up, and its not really making Duncan look like a good person here...
Like I said before this update, 2 years ago he debated with a friend of mine, constantly insulting and interrupting his opponent. Lo and behold he does it all again, barely letting his opponent reply and using her obviously bad internet to his advantage. Some of his followers in the Twitch chat also wanted to find the girls Twitter to spam and harrass her.
After the debate, when he found out his body shaming comment was condemned by many, he, which is typical of Duncan, lied about saying that, and making excuses (his followers included) saying parts of the clip were left out or that we don't understand the whole context.
Last edited: