Fangz (
@kaijufangz
||
archived(01/03/2021)
) is another fairly run of the mill English vtuber, that thrives off drama, and came into the spotlight during the
kyuotto drama.
Despite still having no (public) content, and spending time on twitter talking rather than doing anything they've still managed to get $346 a month donated to them, and have rounded up 2.3k YouTube subscribers, along with 5k twitter followers. So a round of applause for that.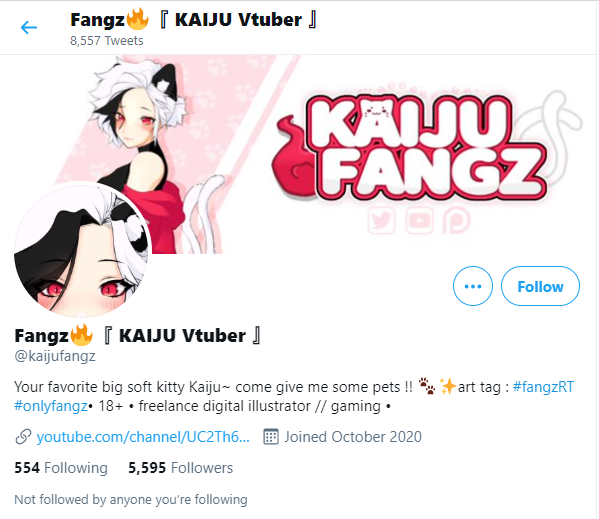 Patreon
||
Archive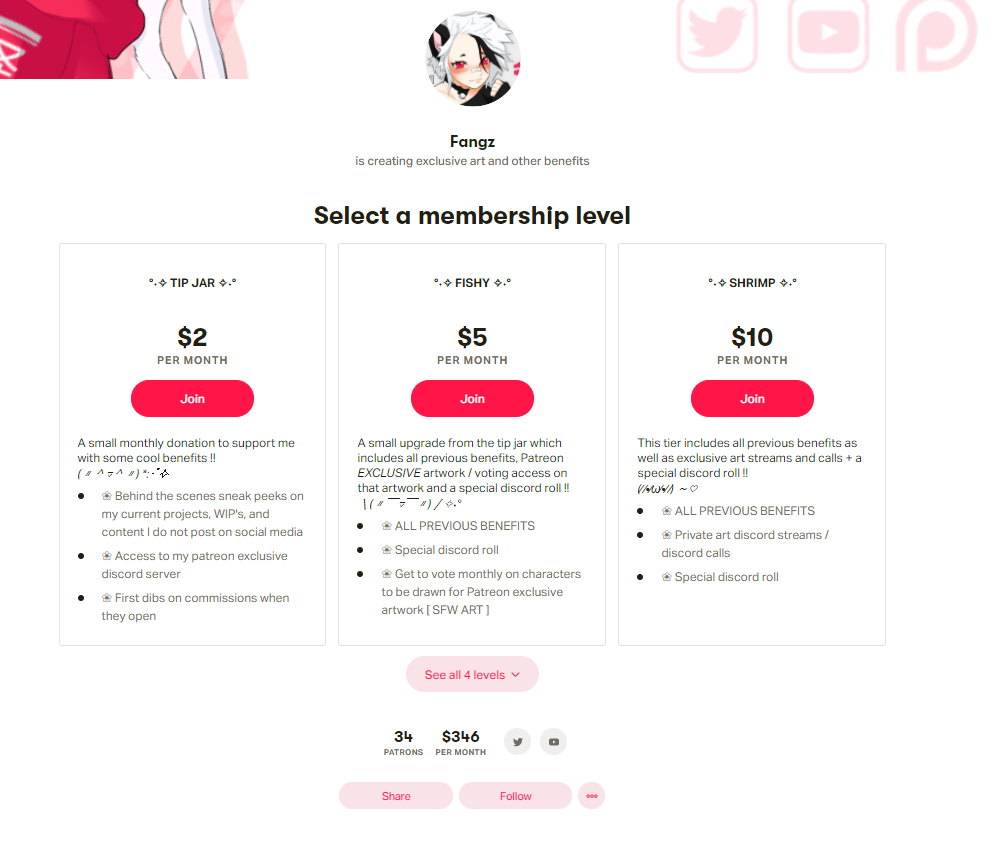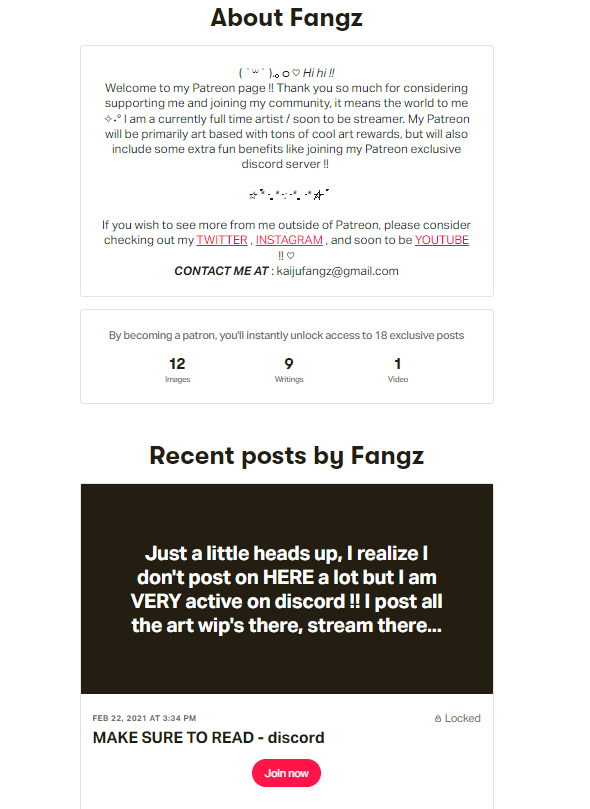 Youtube
||
Archive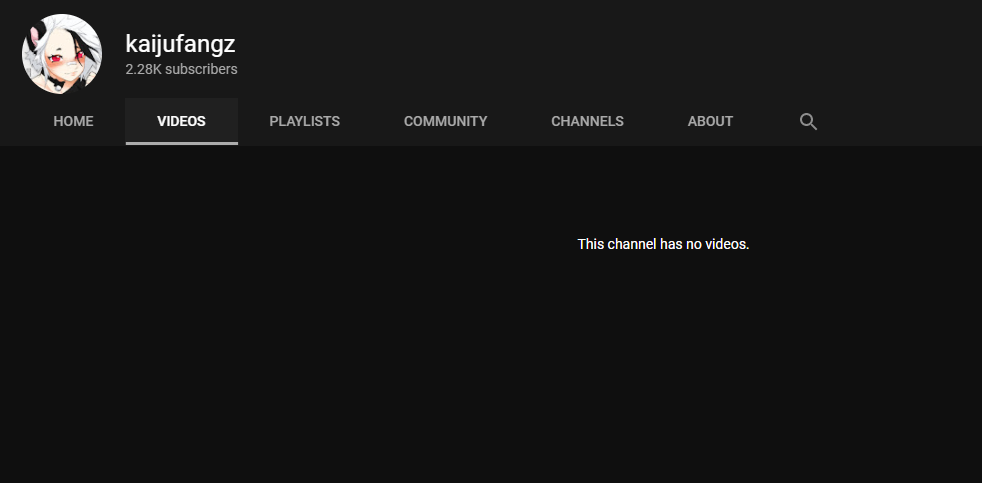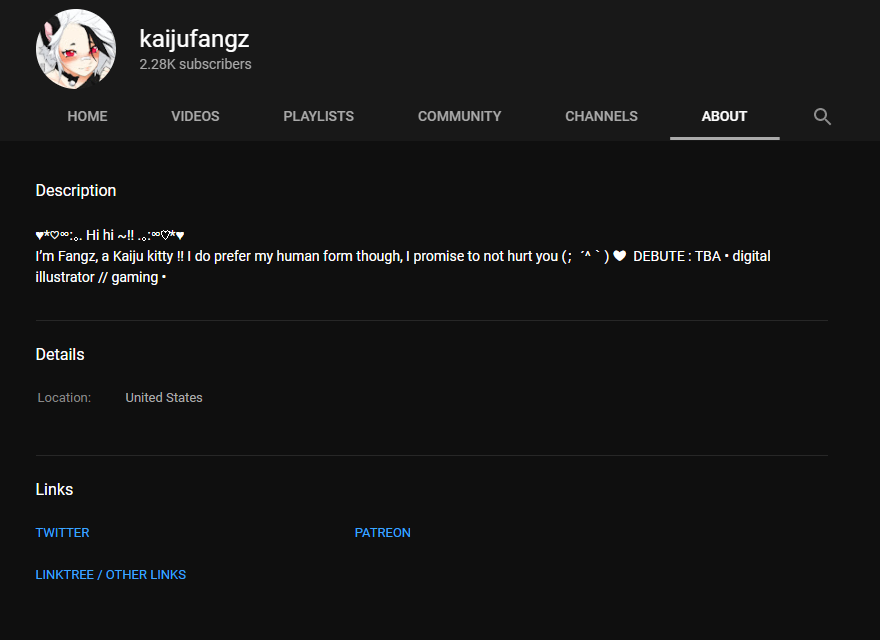 So clearly they aren't here because of their content
then why bother mentioning them?
Kaijufangz is what you'd find if you looked up "Vtweeter" in the dictionary (assuming it was a word)
They got their attention from trying to cancel Kyuotto, and are now shocked that no one wants to associate themselves with her. This also ignores the fact they have 0 content to show.
Here are all the screenshots and archives I could find when she tried to cancel Kyuotto. This is not an opinion or "just criticism", she directly engaged in the Kyuotto's harassment, and insulted anyone that disagreed with her.
(By literal that she is talking about lolis)
She tried to pretend she wasn't involved
Of course, you are totally an innocent queen and your actions were just misunderstood
She tried to apply for hololiveEN and was told to GTFO because of all of the above
Tweet
||
Archive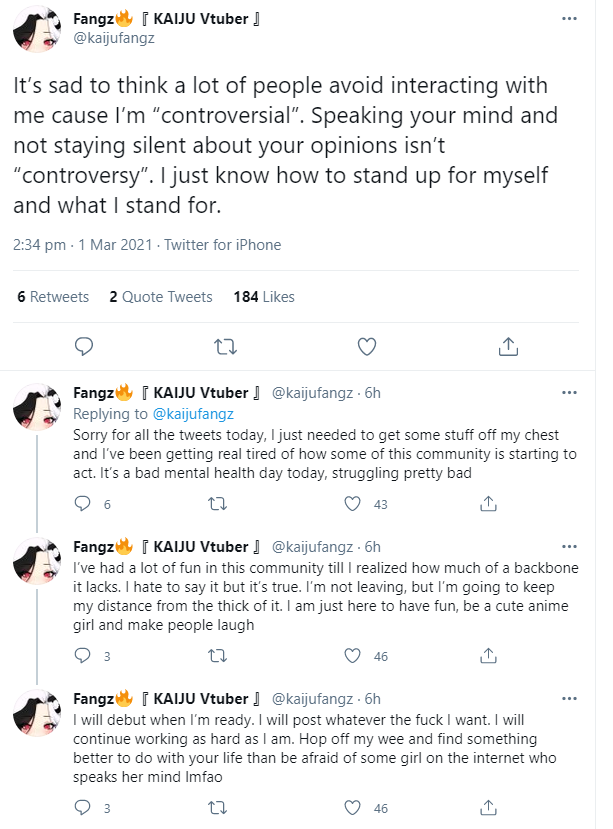 "I am just here to have fun, be a cute anime girl and make people laugh"
You aren't winning yourself any favours from the prime vtuber audience then...
Tweet
||
Archive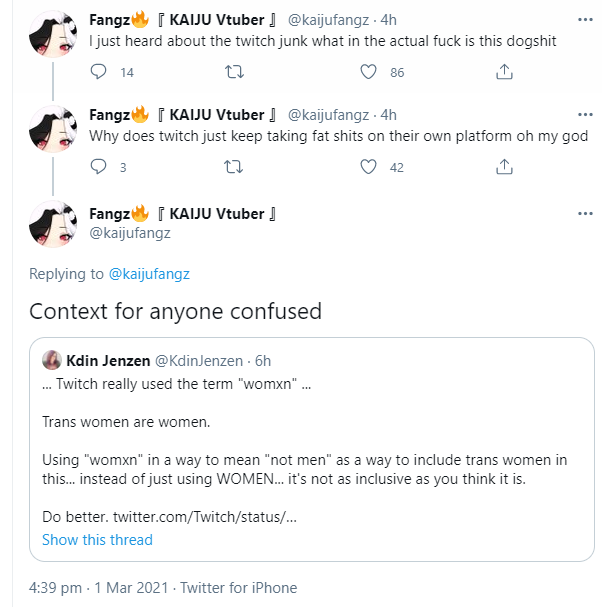 Tweet
||
Archive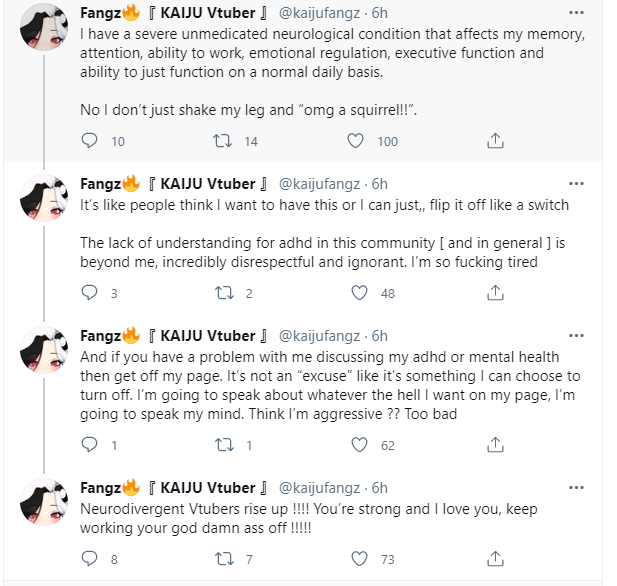 They've also removed predebut in a hope to rid the stigma that predebuters have, but that doesn't change the fact she still goes by "Kaiju Vtuber" and hasn't posted any sort of content outside of the pictures and merch (yes they're
already producing merch
(
archive
) despite not having a single public stream, and not even debutting
).
The reason why calling herself "Kaiju Vtuber" matters is because you're still going to attract the vtuber crowd, and when they see you have nothing to show (unless they're willing to give you 3 dollars on patreon), you'll be told to stop talking as if you're apart of the vtuber community. Which she's also attempted to distance herself from (but not very well apparently)

Along with this they handle minour criticisms very poorly. If you don't want to be called a vtweeter, then stop tweeting and focus on your bloody debut.
Tweet
||
Archive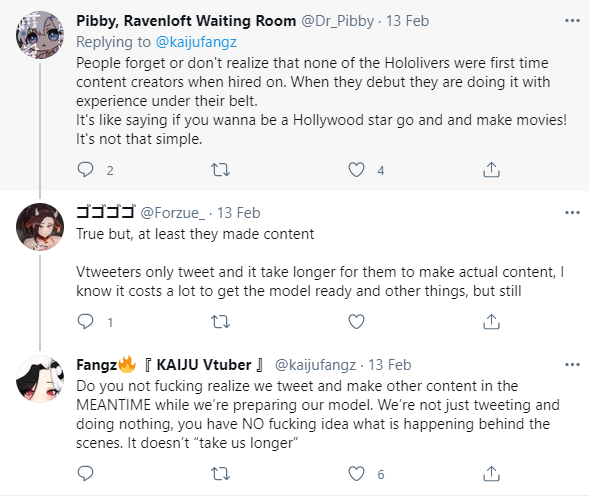 You're meant to be a streamer, not an artists.
If you don't want to be held to vtuber expectations, but still want to stream then draw on stream without the model.
You don't have to be a vtuber. If you want to stream, just stream. Its that simple. You can add a model later on if you really want on, but quite frankly if you can't hold an audience without a model I don't think its gonna help much

Despite thinking they've got it all figured out they seem to misunderstand why Vtuber fans are upset with them.
You haven't contributed a single thing to the community, yet attempt to change it in your favour as if you own the damn thing.
That
is why predebuters are disliked, and why vtweeters became a word.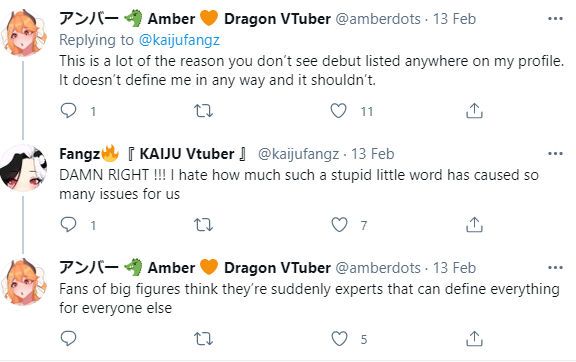 So many of these peoples problems could be solved by simply not calling themselves a vtuber, and just being a streamer.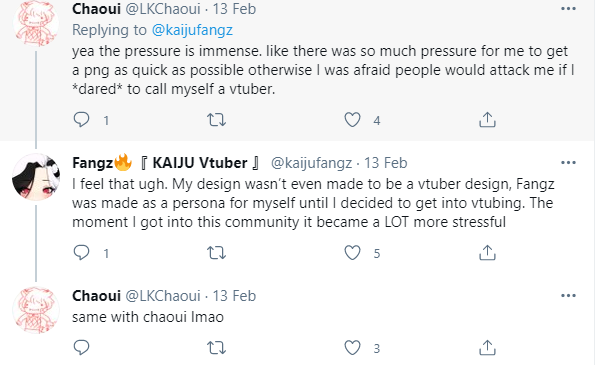 tweet
||
Tweetlonger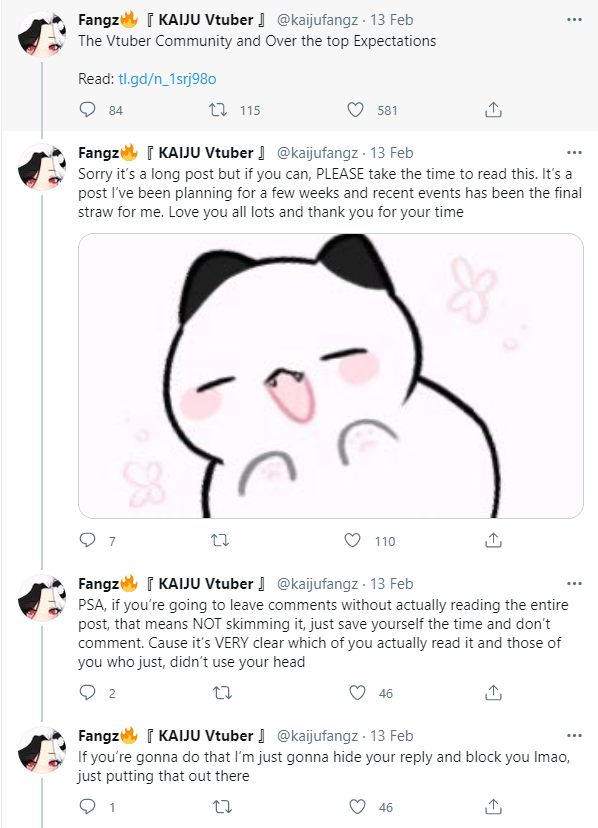 Naturally when they aren't pissing off an entire community the rest of their timeline is "uwu friendly vtuber" tweets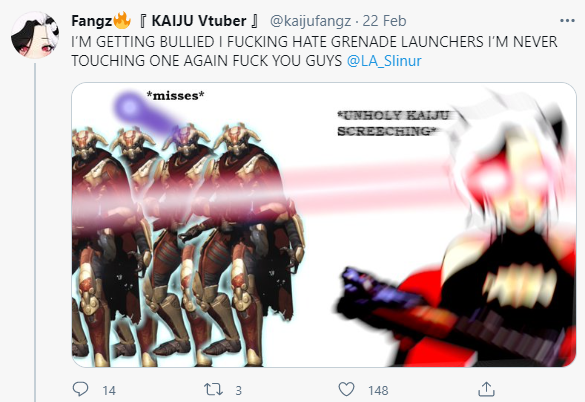 Then stop tweeting and focus on actually debuting.

Again. Stop sitting on twitter and work on the debut more.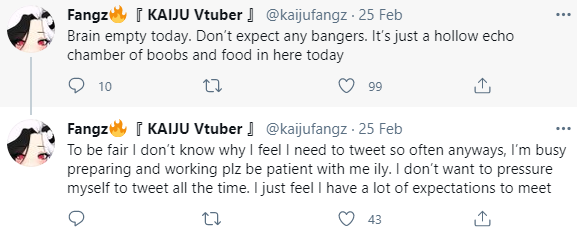 just... what?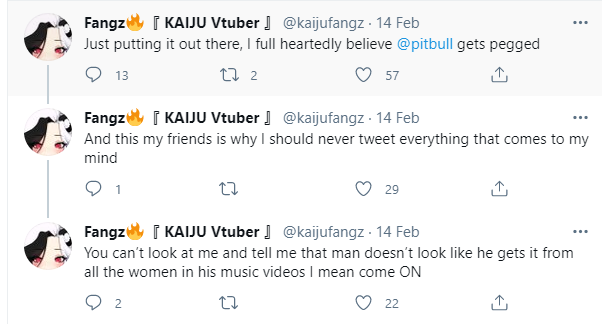 So why does Kaijufangz deserve a thread? She's a prime warning for all those would be vtubers out there. If you really want to vtuber, without dealing with the predebut stigma you've got 3 incredibly simple choices ahead of you:
A. Have everything prepared before you go to twitter, or whatever platform you use to advertise.
B. Stream from the start, and slowly add on all the vtuber parts.
C.
Don't talk as if you own the community before you've even joined it.
I'm not much of a thread writer, and barely scrapped the surface, so any additions to this are welcome.
Last edited by a moderator: