This is just my own take on this subject/spin.
Currently on the Western side of Vtubers, there are two among them their own fanbase dudded as ''cozy wolf both wholesome and lewd''
Silvervale & Sinder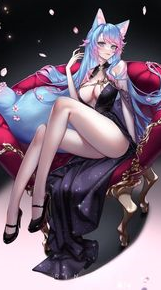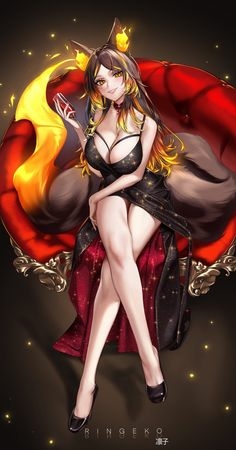 Silvervale, the sakura wolf goddess vtuber
Sinder, the hellhound wolf vtuber
Many artists and fans have mentionned the similarities of both across the current year of Sinder arrival in the Vtuber world. Arts like those above made them have the only exchanges on social medias between both and it seem generally nice and supportive. Overall, nothing could come out of it and maybe this is a case of looking too much into a casual detail.
However, I'm not convinced.
Considering they have both many similar friends in their small respective circles of collaborators and being both friendly and supportive to other Vtubers - it is quite odd they never actually have been in the same group collab together even once (just like two people invited by the gang to a big party, but they never are seen even once close to each other), so maybe there is actually something brewing that just waits to happen.
Also, Sinder 1 year career as Vtuber is a decent one... but maybe too decent for someone with a new Vtubing career. Granted, she isn't a superstar in that business and maybe her own climb to fame will bring out more of her flops/dirts as drama gets out. With her doing a signature of posters for her fandom during 1 year anniversary before (which Silver did in Aug 22 for her own fandom), this just seems too convenient, as if Sinder more than often do take the lessons/failures/successes learned across Silvervale own career to make her own success happen. Once or twice could have been classed under coincidence, but we are way beyond the usual.
Why it takes my fancy at this point is that contrary to Vei calling out Shylily for copying her voice and the drama dying rather quickly after the brief accusation, this seems like the elephant in the room no one is sure to bring up as a subject for many months now. And those things have the potential to blow up way out of poportion and make a lot of dirt than an initial quick outburst can make, expecially when they lie in wait for so long (or they are seethed quietly).
And where copyrights infringements are quite common in the creative content creators world, maybe people should be made aware of this potential heat between both when the dirt start flying. Especially if/when Sinder career manage to skyrocket in years to come, while Silver's own stale and go down.
I will add later on the following three aspects on this discussion (best scenario to worst one):
- Potential collaborators / partners for a dynamic duo;
- The new blood taking over; and
- Sinder, the collateral damage from the coming Silvervale timebomb
Last edited: