varishangout.com
Regular
Translator Extraordinaire
Deleted stuff that needs fixing, will repost when I fix them (whenever that is)



Other Localization Threads:

​
[Localization x Translation] https://varishangout.com/index.php?threads/japanese-games-localization-examples.401/ https://varishangout.com/index.php?threads/checking-nisas-localization-of-trails-of-cold-steel-3.323/...

varishangout.com

​
​
​
Tsundere
<-[JP Screenshot]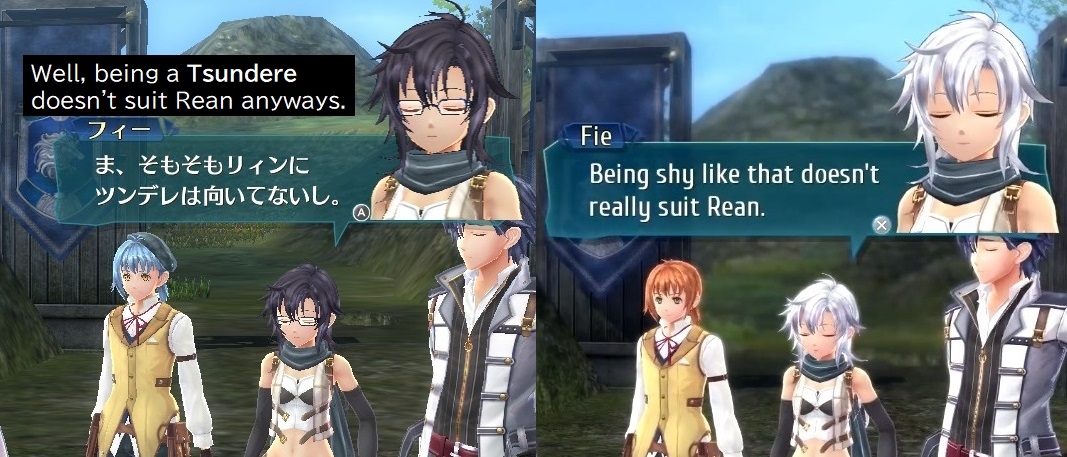 女子力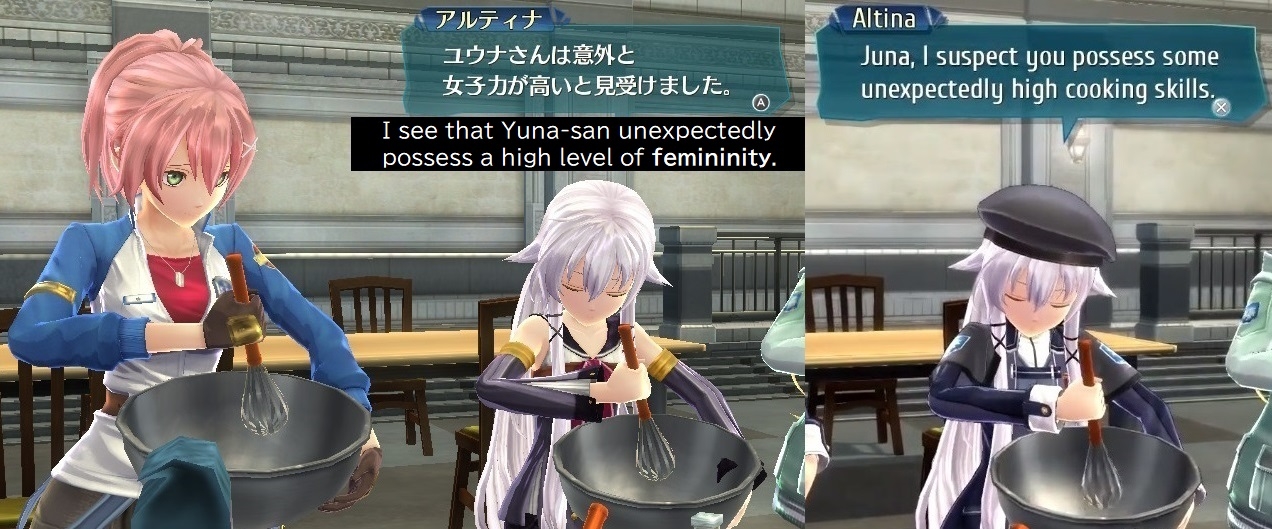 Context:
Juna is a Tomboy
Bean-a-Reano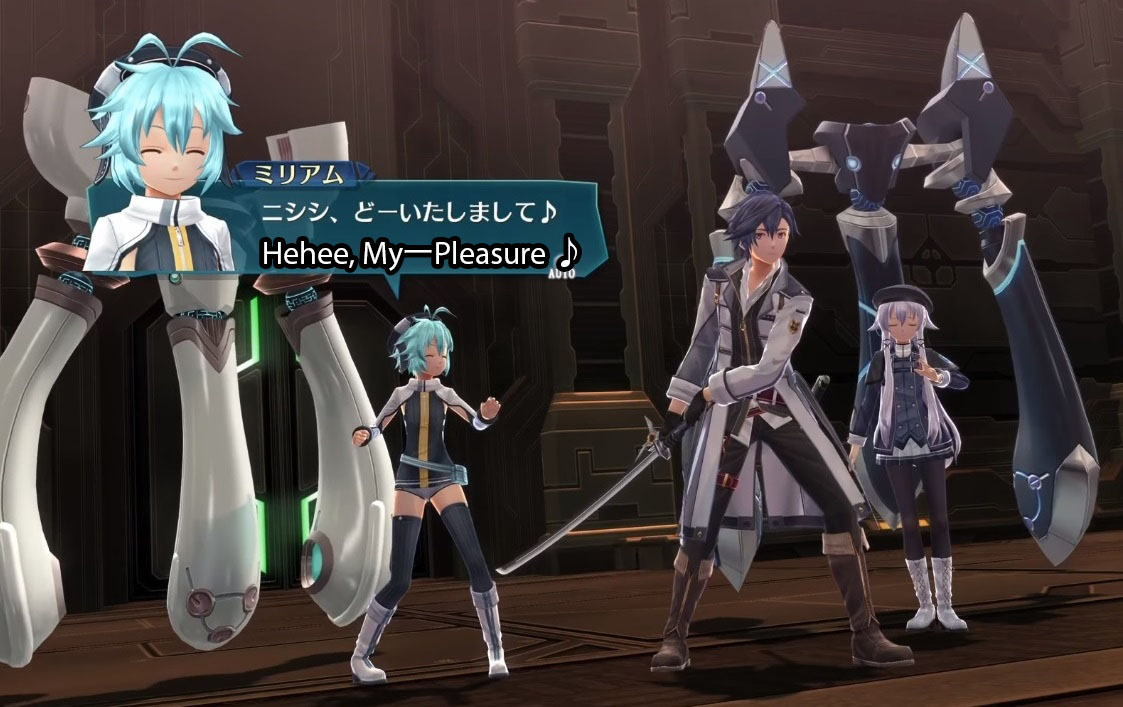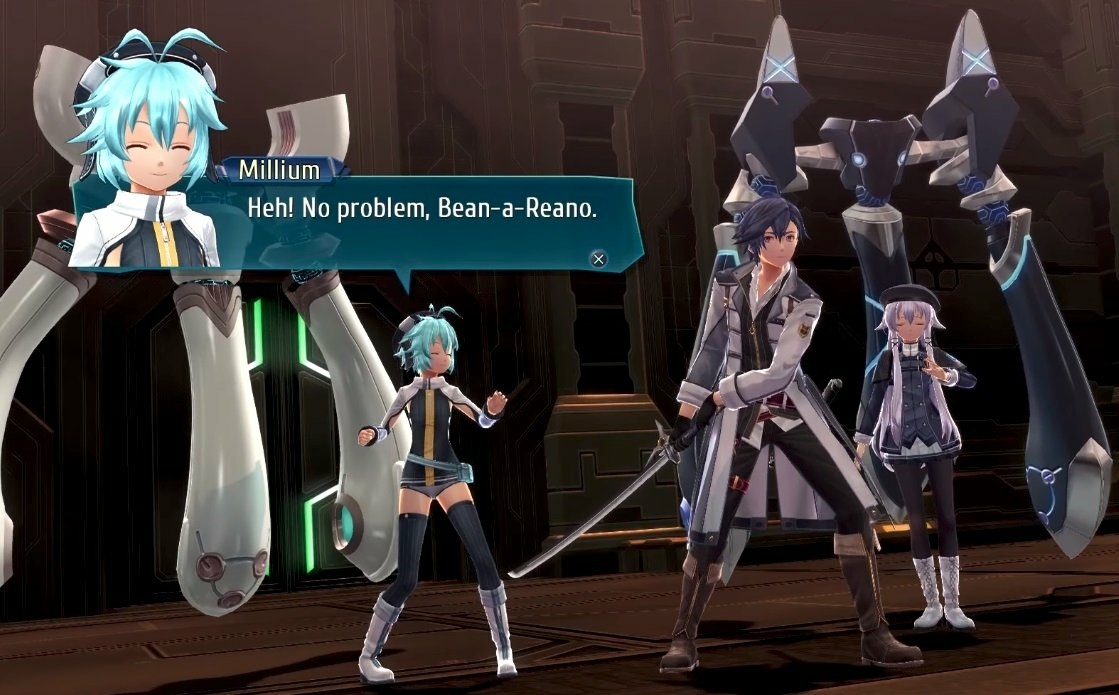 Opinion: Millium is more cringe in the English Version
鬼
化
[Oni-Ka]
Note:
Later in the game it is correctly translated as "Ogre"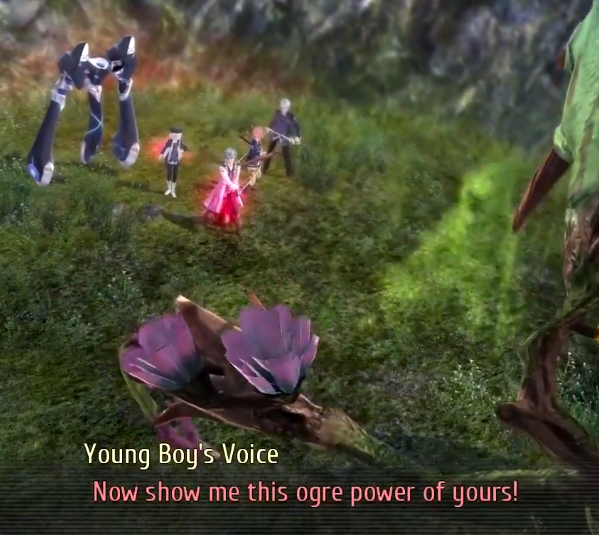 McFirebro
: 火焔のお兄さん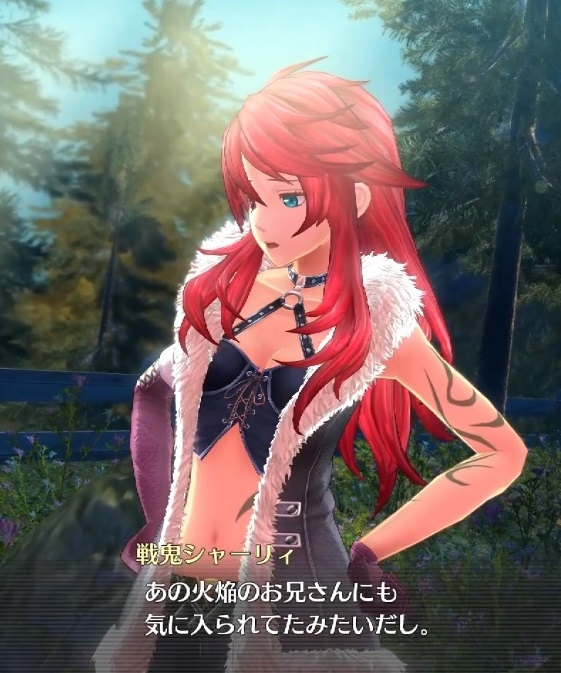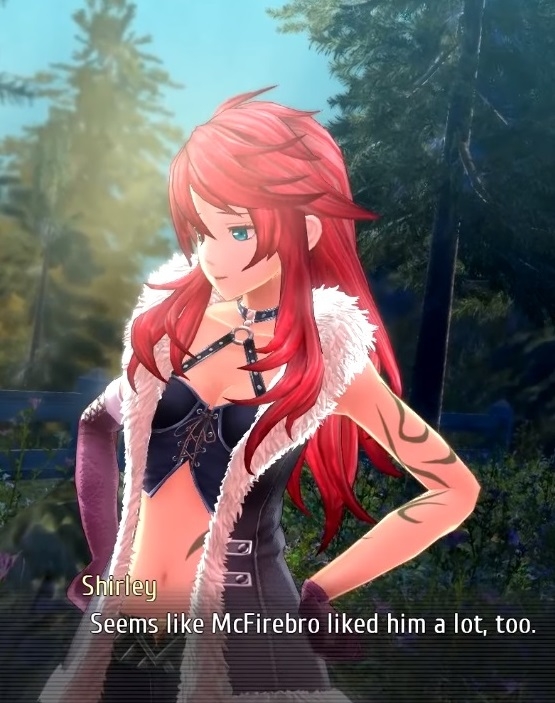 Japanese:
火焔のお兄さん (Kaen no Onii-san) [Roughly: Flames guy/Mister flames]
Localization:
The localizors took only "Mc" from the "referenced" person's name to make a McFunny.
Randy兄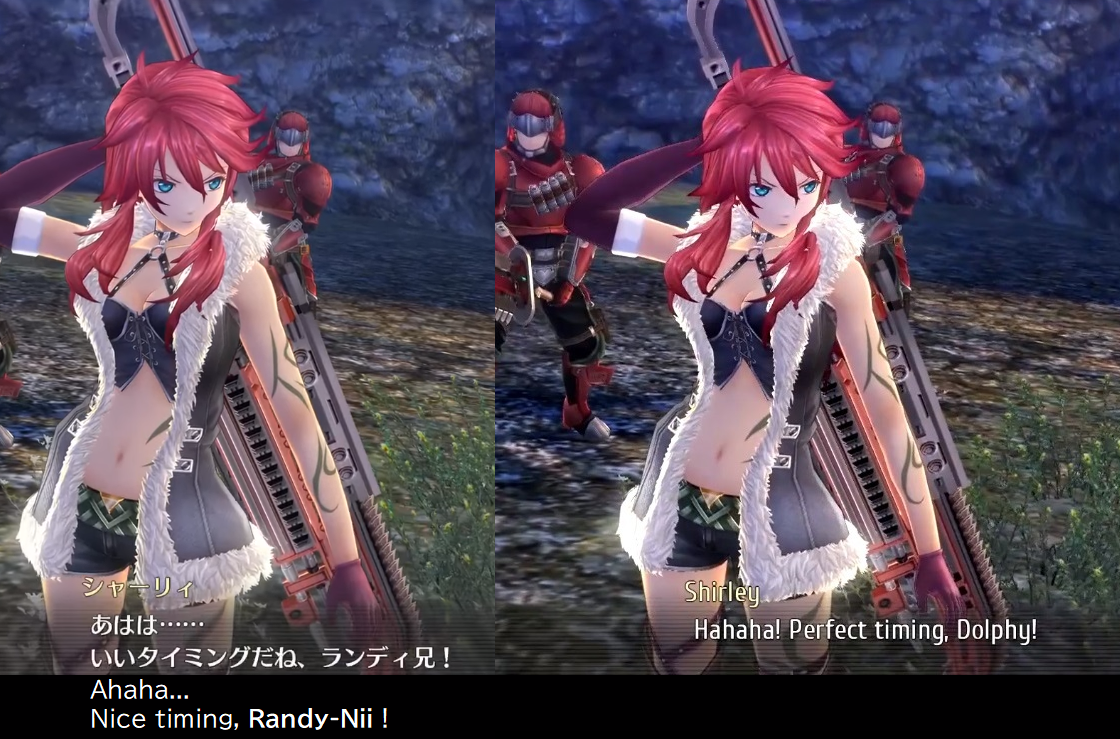 Note:
兄/Nii (Kanji for older brother)
イカした姉さん [Ikashita Nee-san]
Japanese:
Comments on her appearance
Localization:
Comments on her personality
Lost in Translation: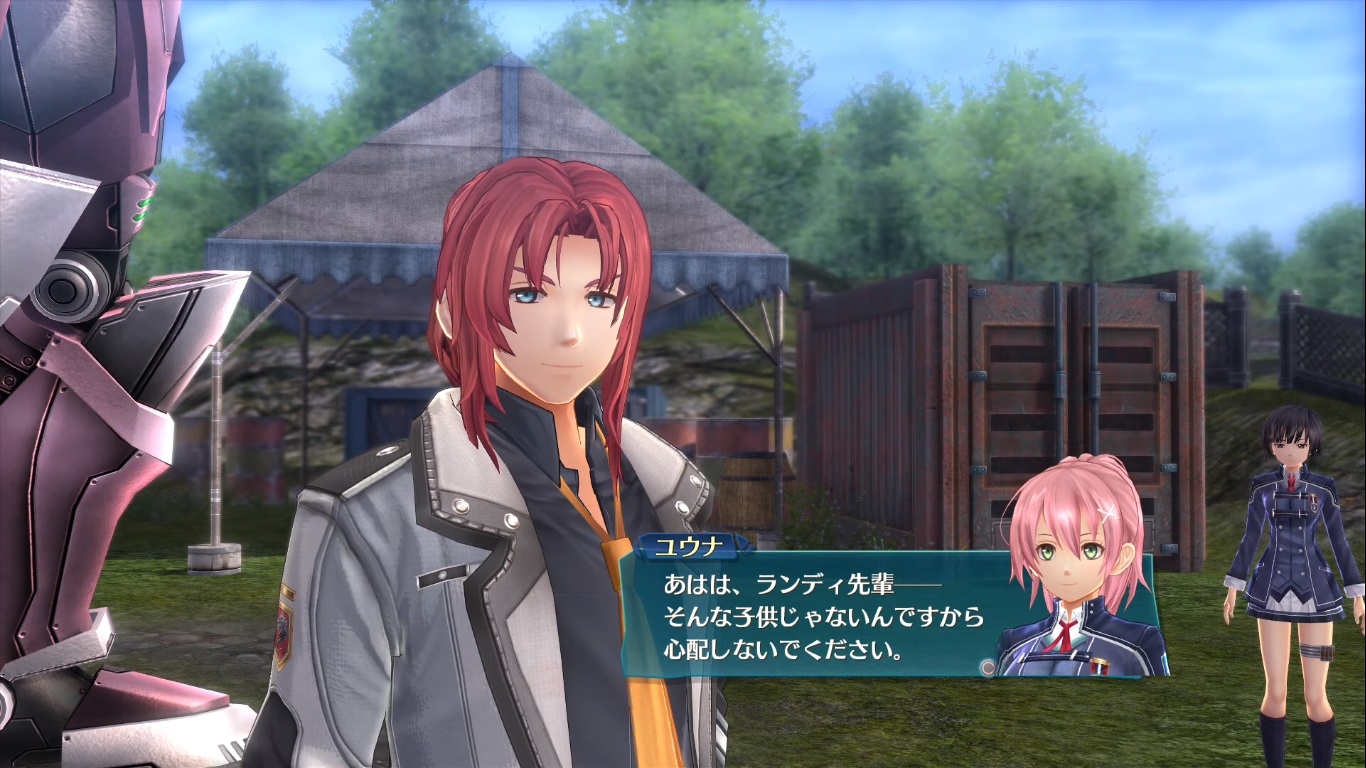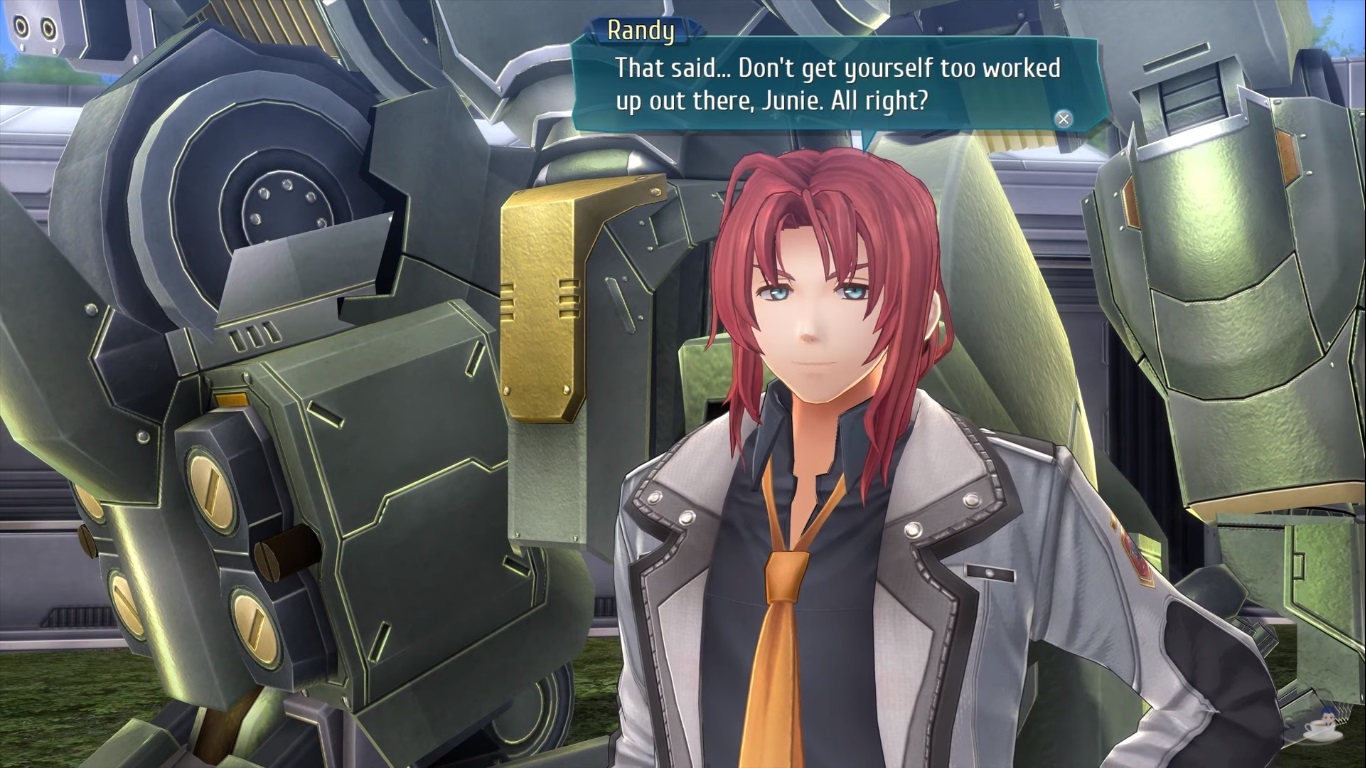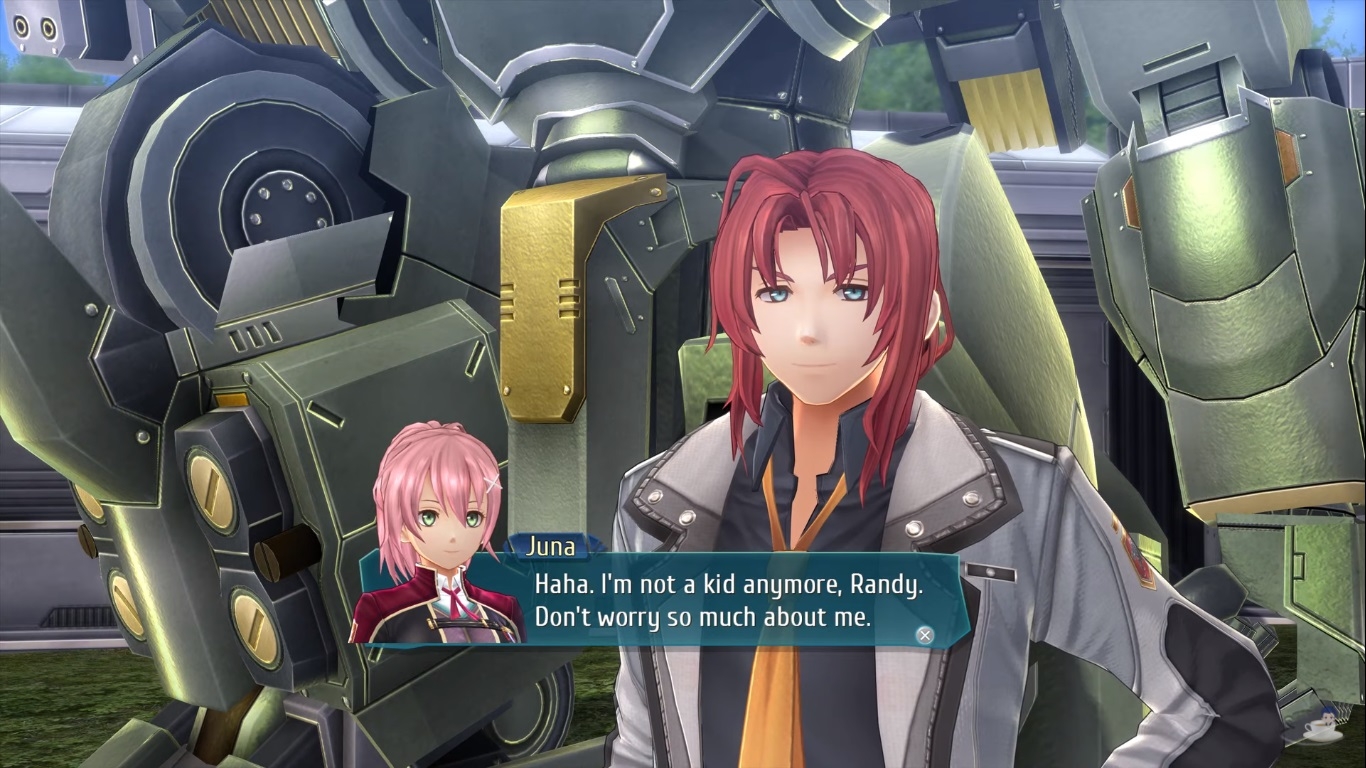 Japanese:
ユウ
坊
/Yuubou (Boyish Nickname) & Randy-senpai
Localization:
Junie (Just a nickname) & Randy
Yuuna's JP Nickname:
Yuuna is a tomboy so Randy gave her a boyish nickname. It is similar to what Ryuzu calls Garfiel in Re:Zero
[ガー坊/Gaーbou]


-San

Opinion:
Localization should've at least added Mr.
Senpai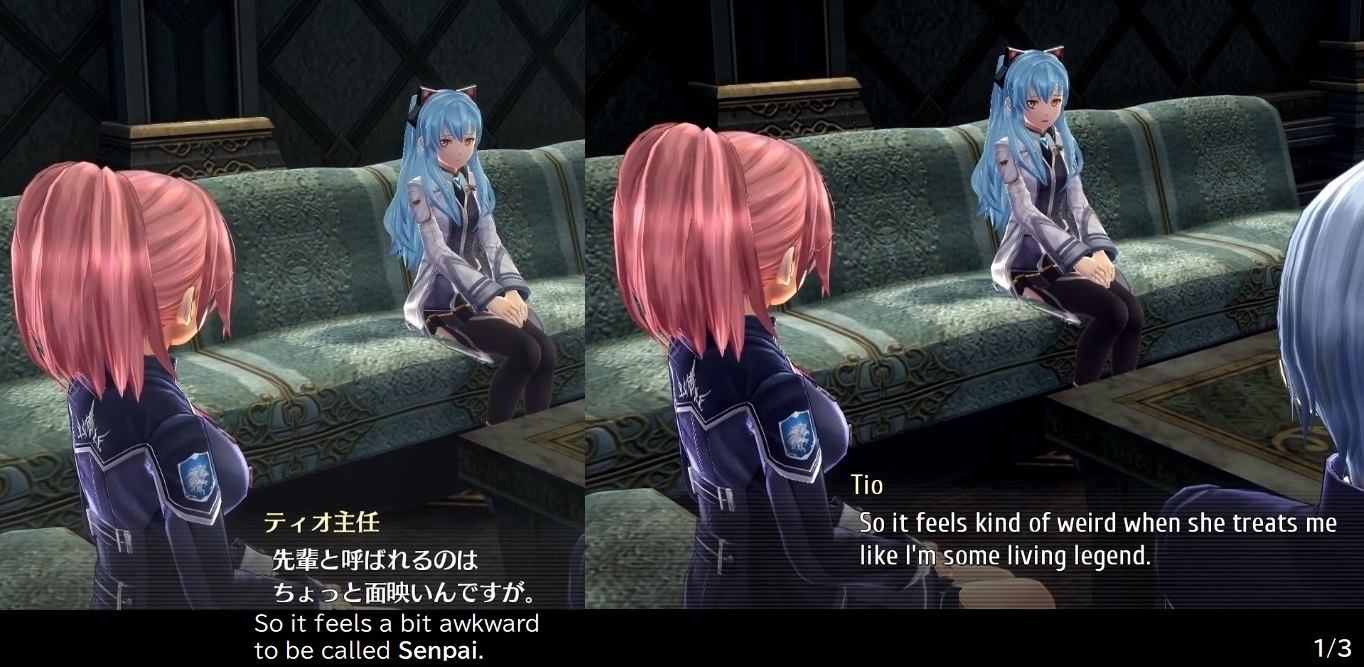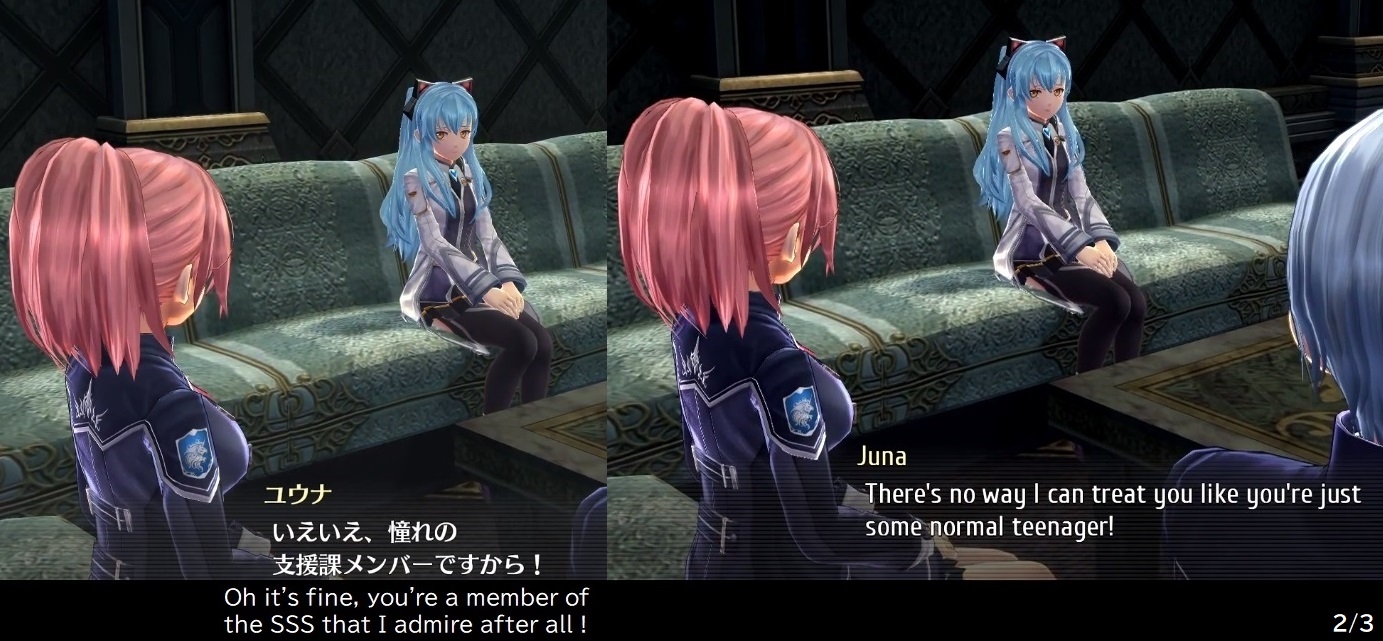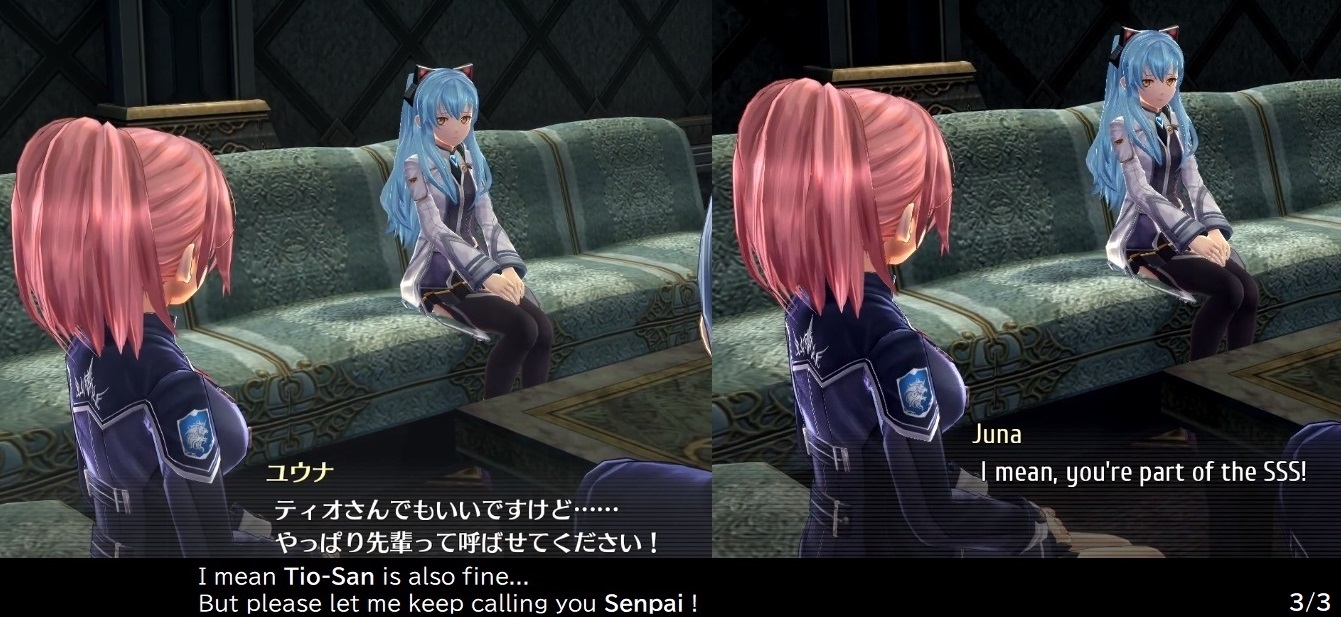 Bodyline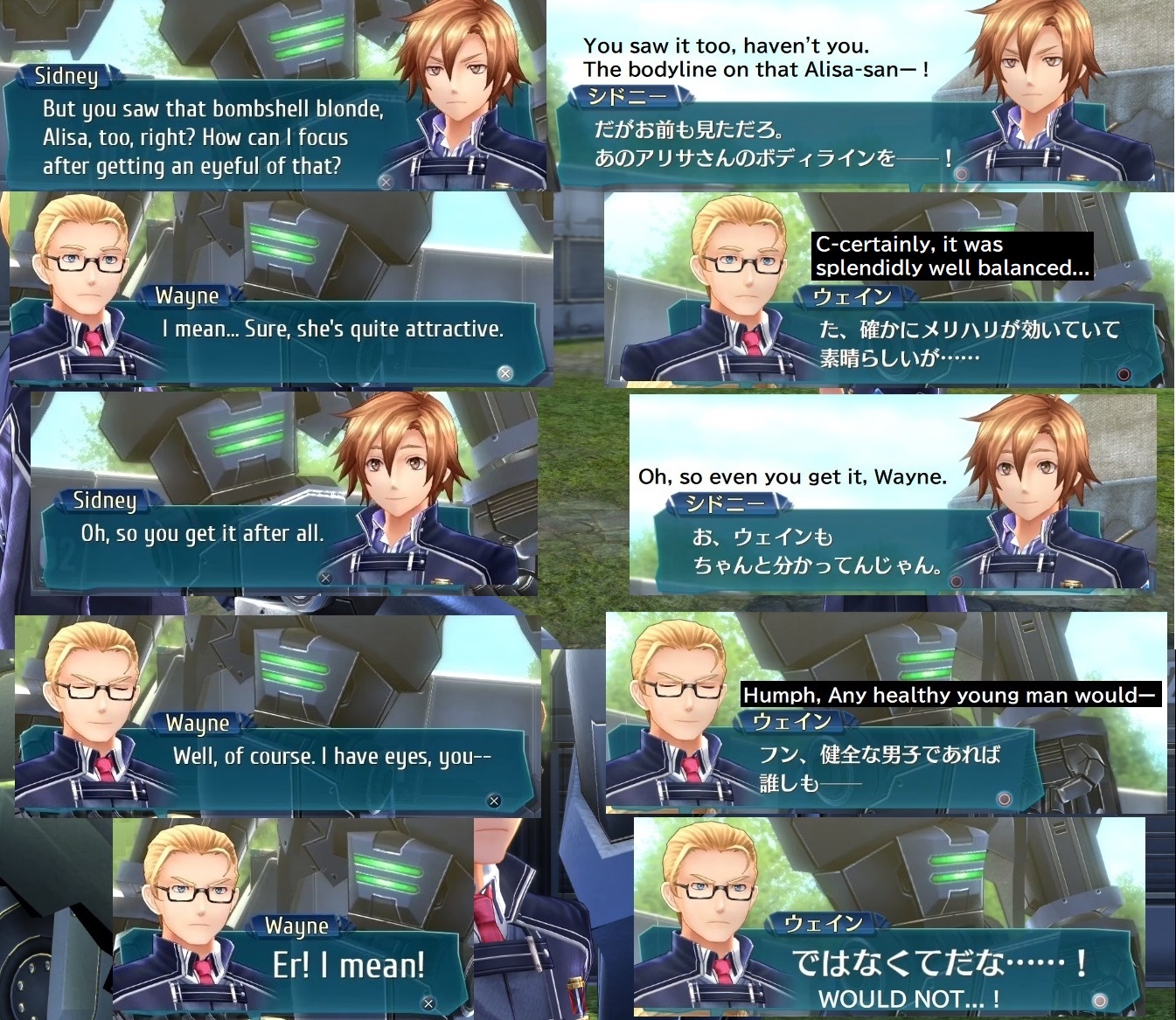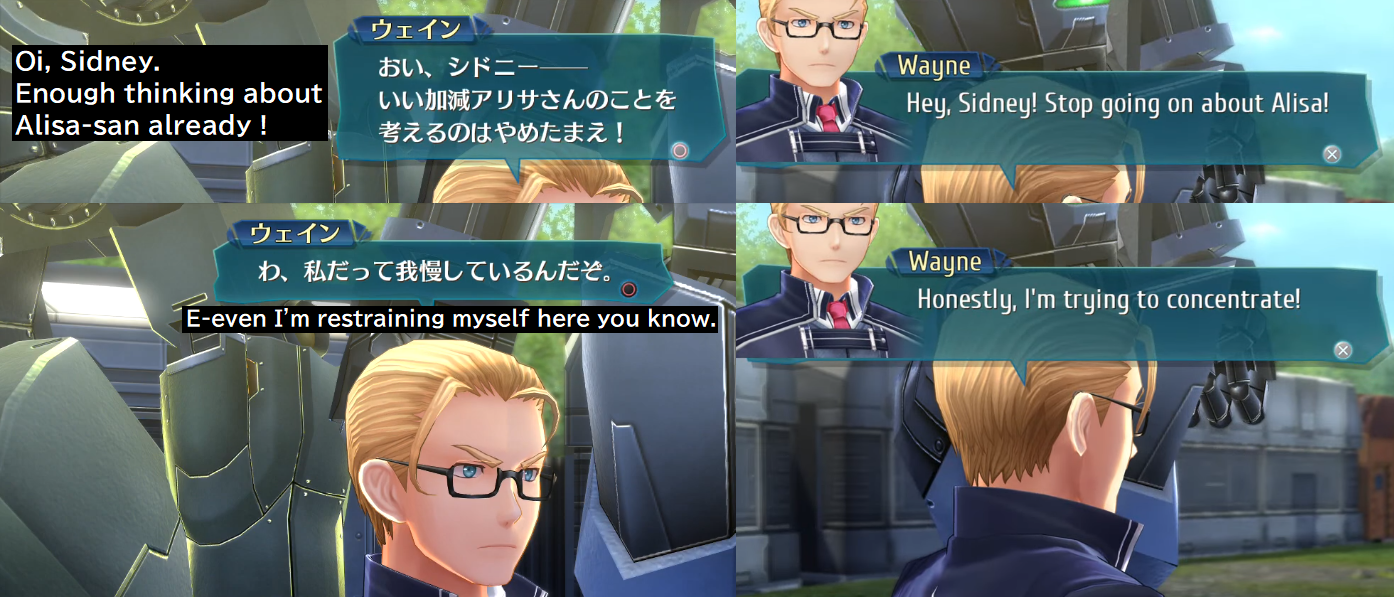 Master


Note:
The trio use マスター/Mastaー", while other characters use 主/aruji, both are translated as "lord"
Kinda lame imo
色っぽい

Opinion:
[Intimate could mean A/B/C] [Erotic only means C]
If it is direct, then don't turn it into an implication
色っぽい again
Note:
"Erotic" is untranslated
Tsundere Again

Opinion: Localizors will put Tsundere's entire definition in the text box before even just considering leaving it as is.
大人っぽい下着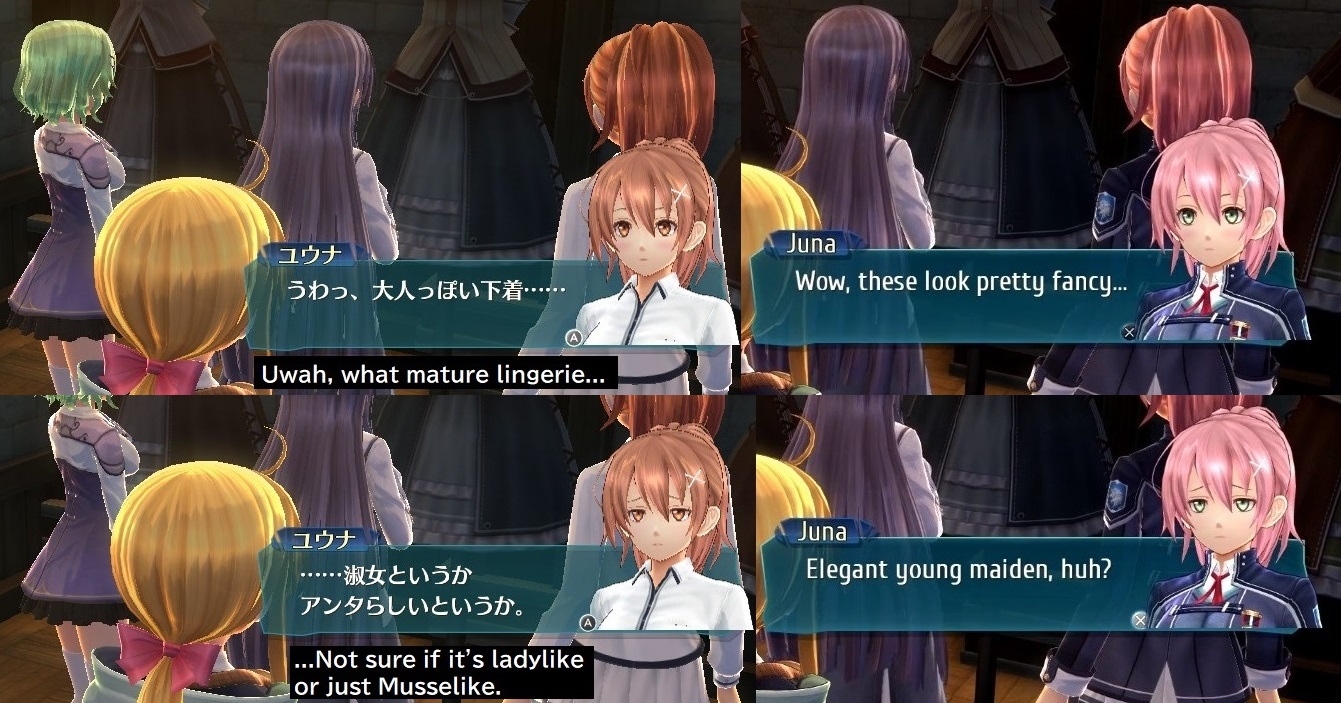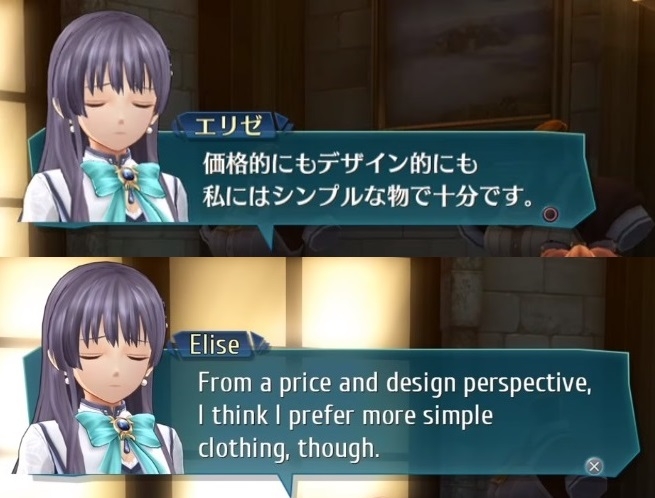 <-For Context
小娘揃って

Opinion:
I think the localization is using gender neutral language, while JP Celine is criticizing them for being noisy/chatty "girls".
ゆるふわヘアーのお嬢様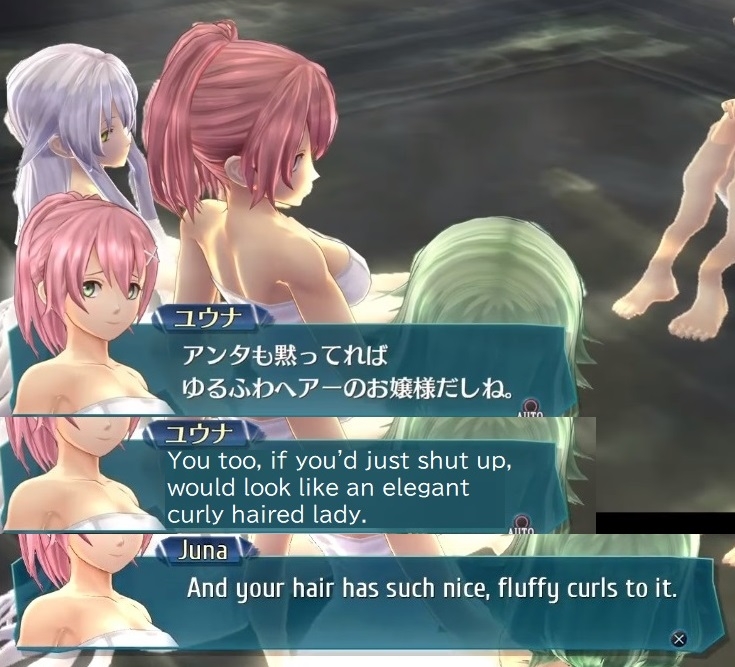 Opinion: Localizors maybe had a problem with "You'd look like a proper lady, as long as you're quiet"
朝から晩まで客の相手して
Context:
[Party is in a red light district town] [Nun is Ash's acquaintance]
Note:
Ash is teasing her by making her church services sound like prostitution.
In the localization she still respond with "why do you have to say it like that" despite Ash not saying it inappropriately like in the Japanese version.
兄さん (Spoiler)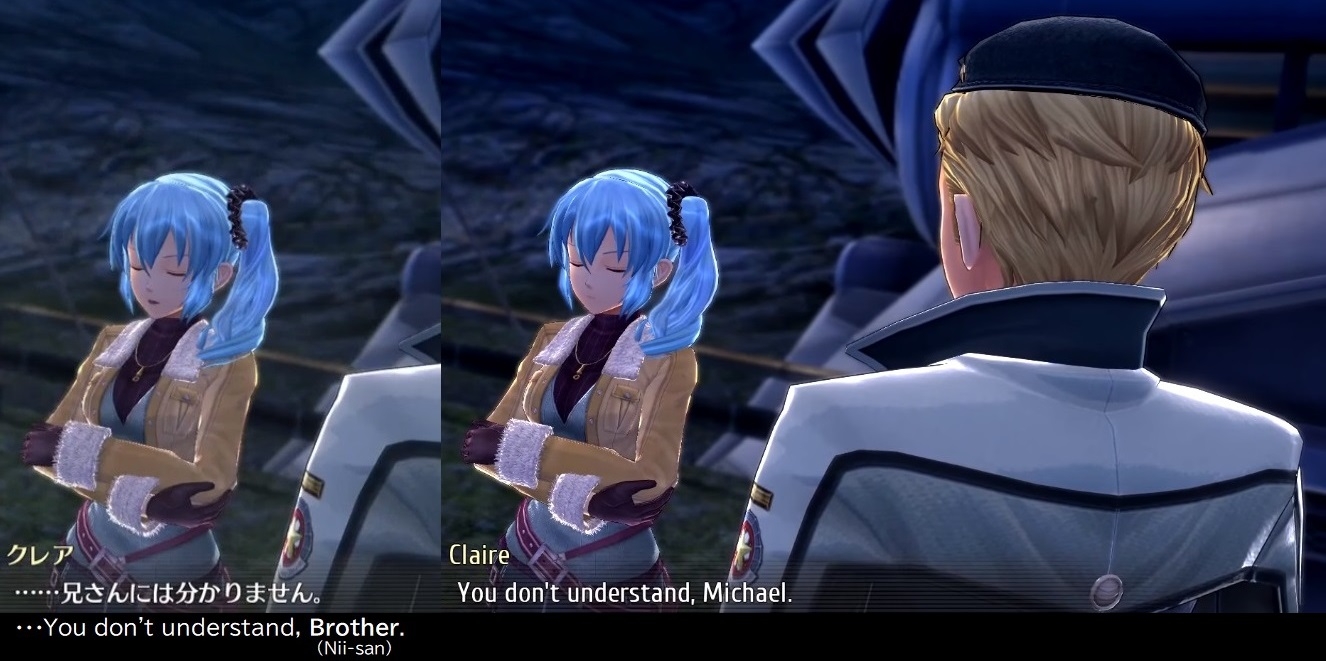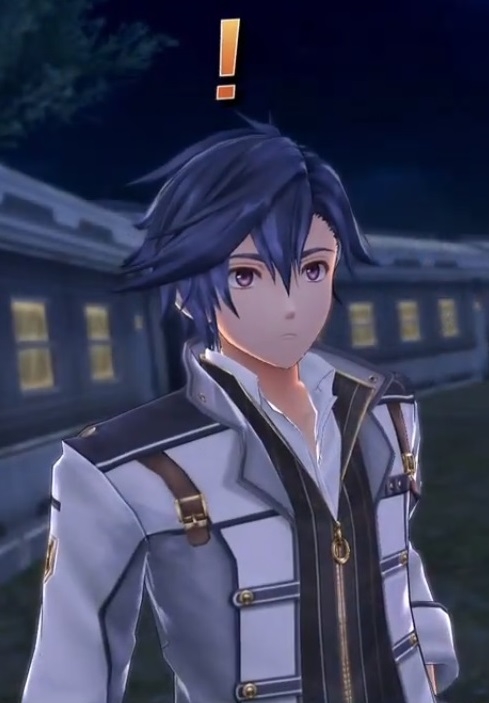 Context:
Rean "accidentally" runs into a private conversation where Claire refers to Major Mikhail
(ミハイル)
as "Nii-san". She later explains their relationship to Rean.
Note:
Calling him "Nii-san" shows that they are as close as family, while in the localization it shows that they are on first name basis.
Opinion:
Rean being surprised to hear "Nii-san" is not the same as being surprised to hear "Micheal", its a lame change.
肌の色

Context:
Gaius's skin color
女郎蜘蛛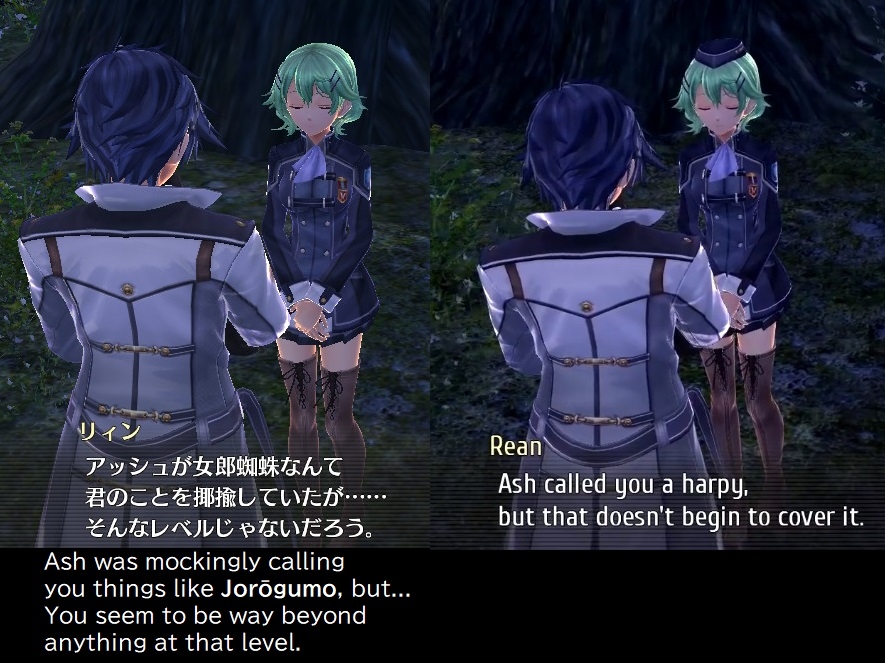 Note:
Jorōgumo is a spider youkai that takes the shape of a beautiful woman to deceive men and eat them.
More Context:
Ash calls Musse a Jorōgumo during the first class they have with class-7 (it was localized to Harpy)
Second time is when they visited Mussee's home, which Ash called "Jorōgumo's nest" (it was translated as "Spider's nest")
Opinion:
And now we're back to Harpy, which I think does not accurately fit the context.
LoIi -> Tiny form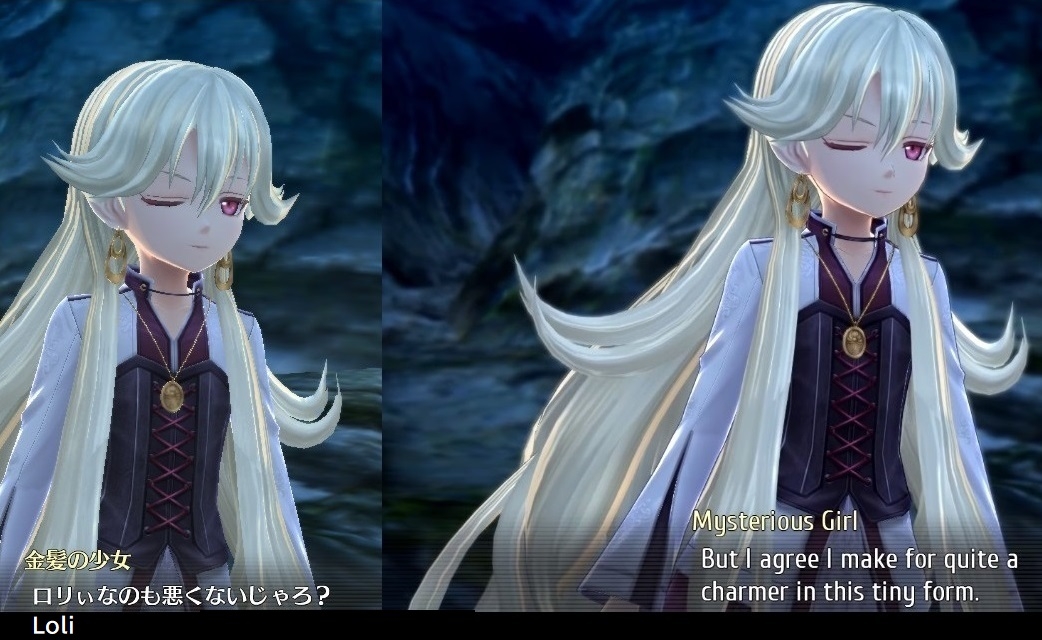 Japanese:
Rori
i
nanomo warukunai jaro?
Opinion: Let the LoIibabā say the word !
女子どもに負けてんじゃねよ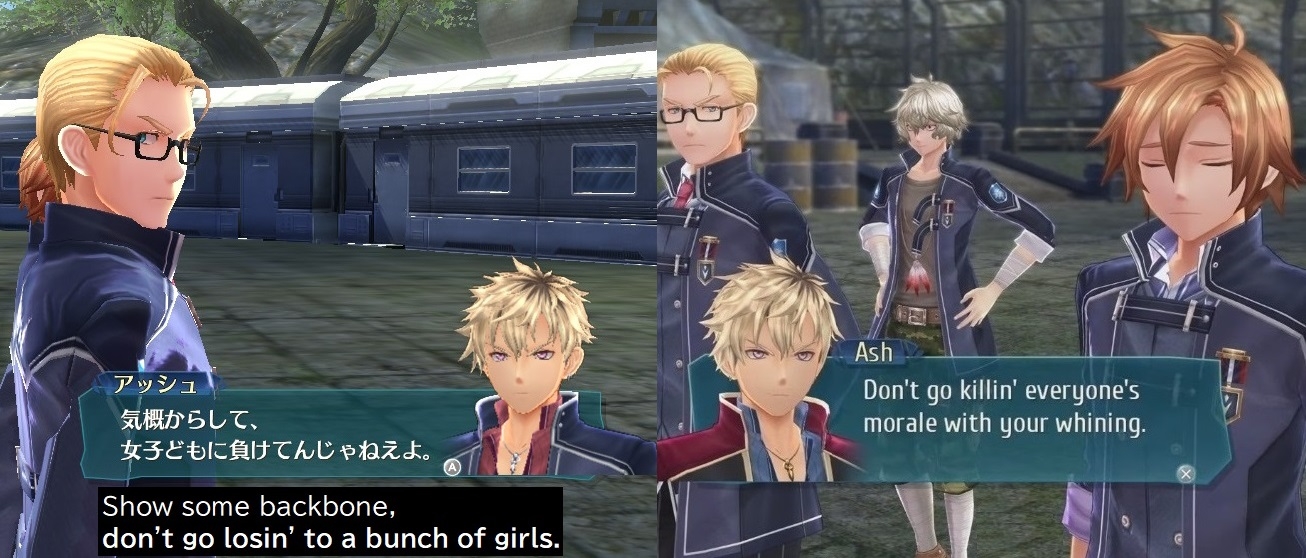 Note:
"Joshi domo ni maketenja neeyo" is untranslated.
Opinion: We can't have that line in current year
Men's Gaze

私を一晩好きにしたい

Japanese:
Watashi o hitoban skinishtai
Localization:
A romantic night under the stars
男冥利に尽きる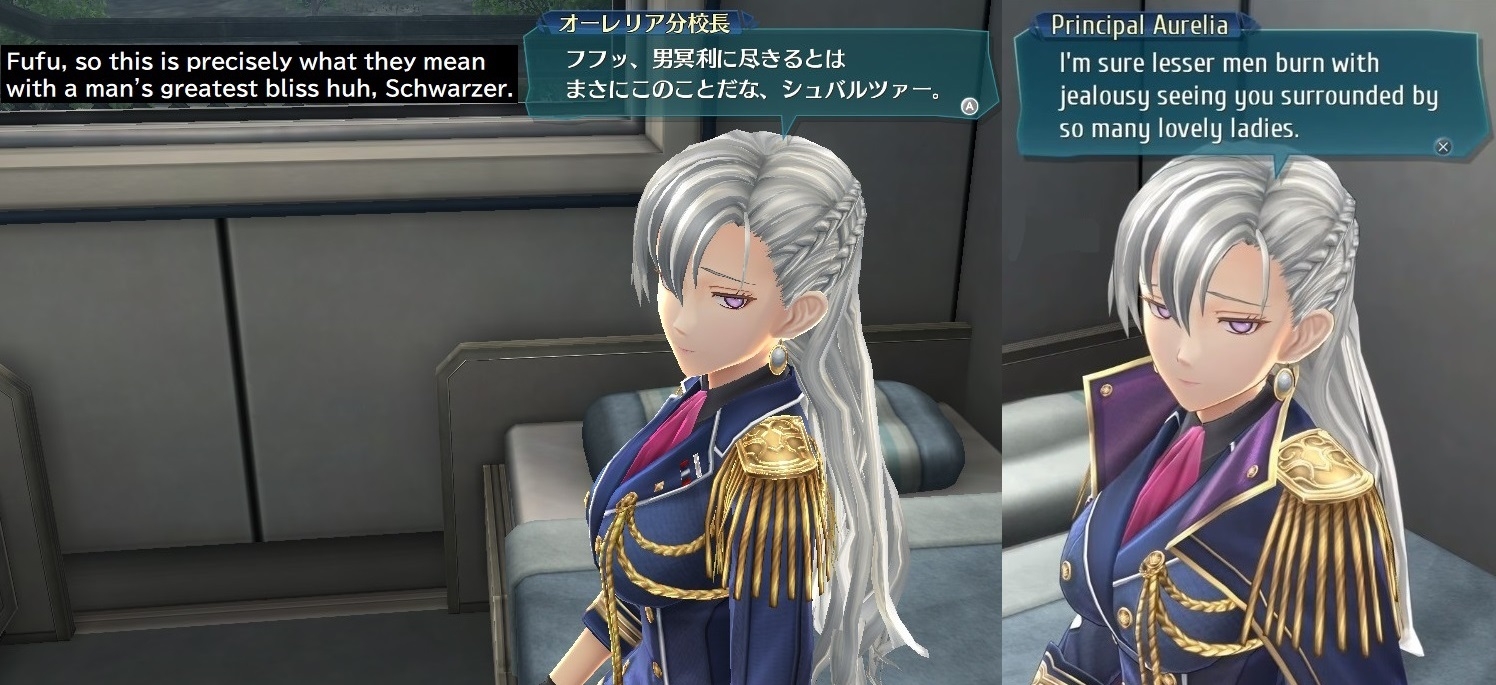 Note:
男冥利
に尽きる: [Dif: The best blessing someone who is born male can have] (being popular with women)
Context:
Rean's Harem
Opinion:
localizors keep changing interesting lines with generic ones. Was this line "too straight" for western localization?
Dood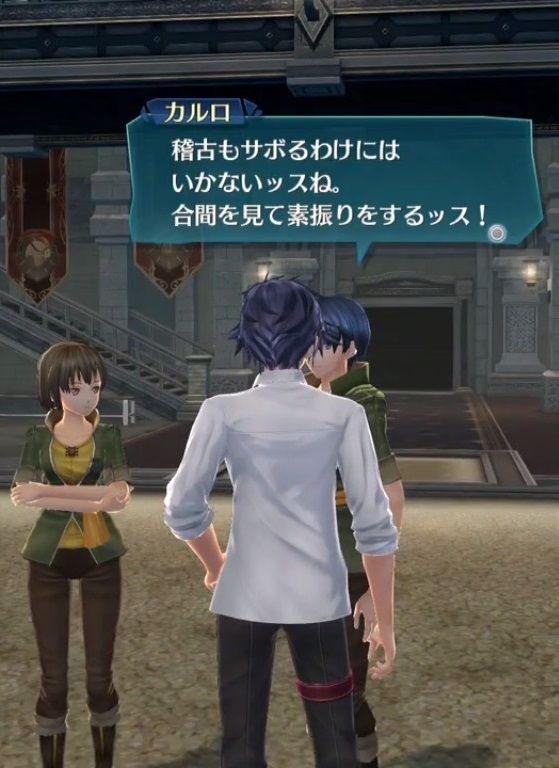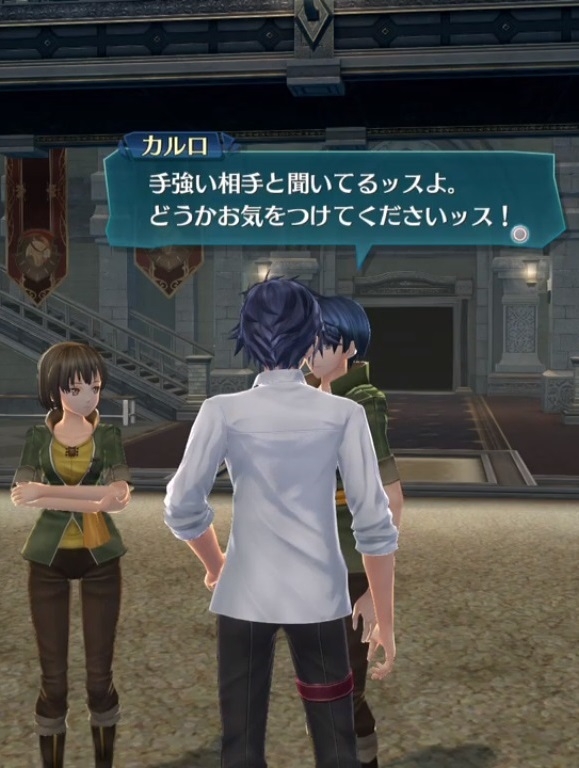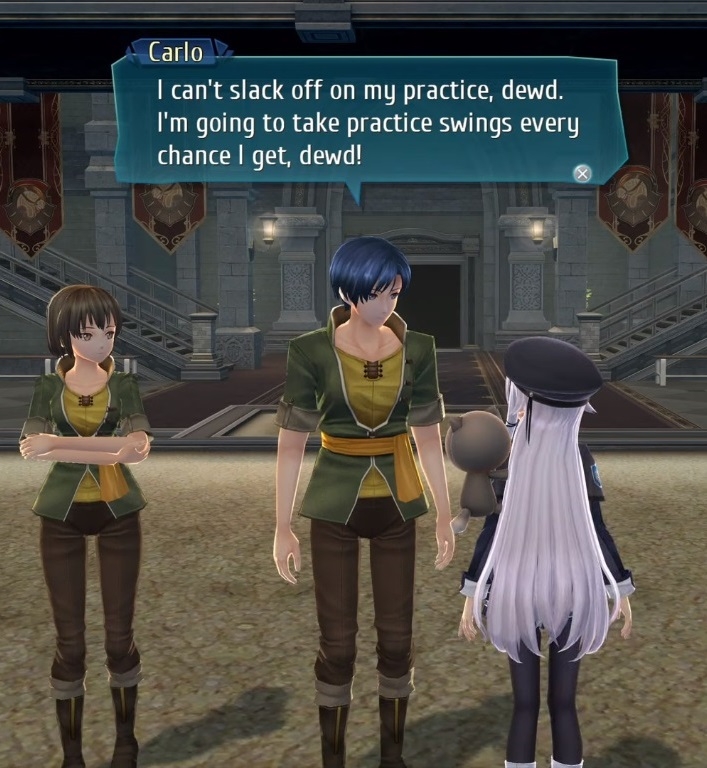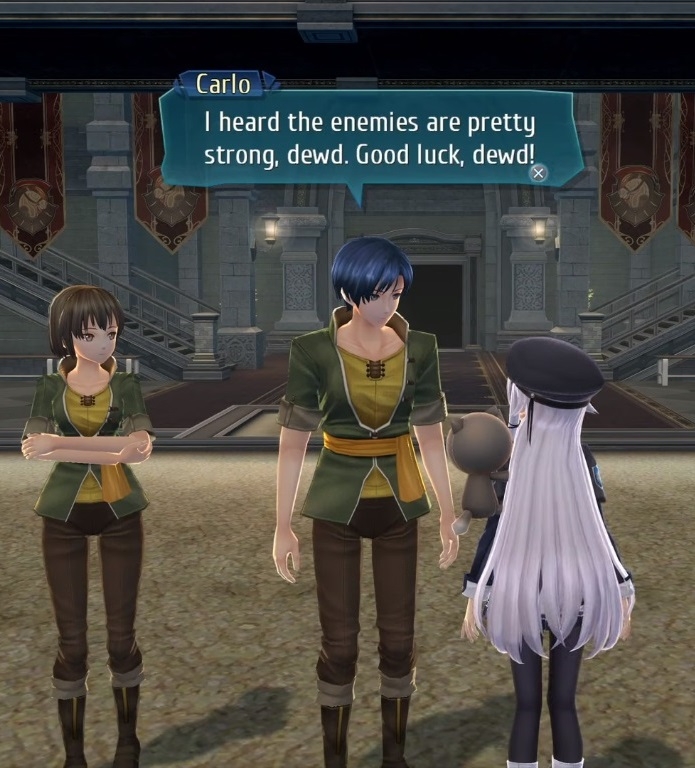 Note: This characters ends his sentences with ッス, so Nisa localizers turned him into a Prinny.
["Gobta" from "Slime datta ken" is an example of a character that speaks in this kind of way, its not a Prinny exclusive thing]

Tone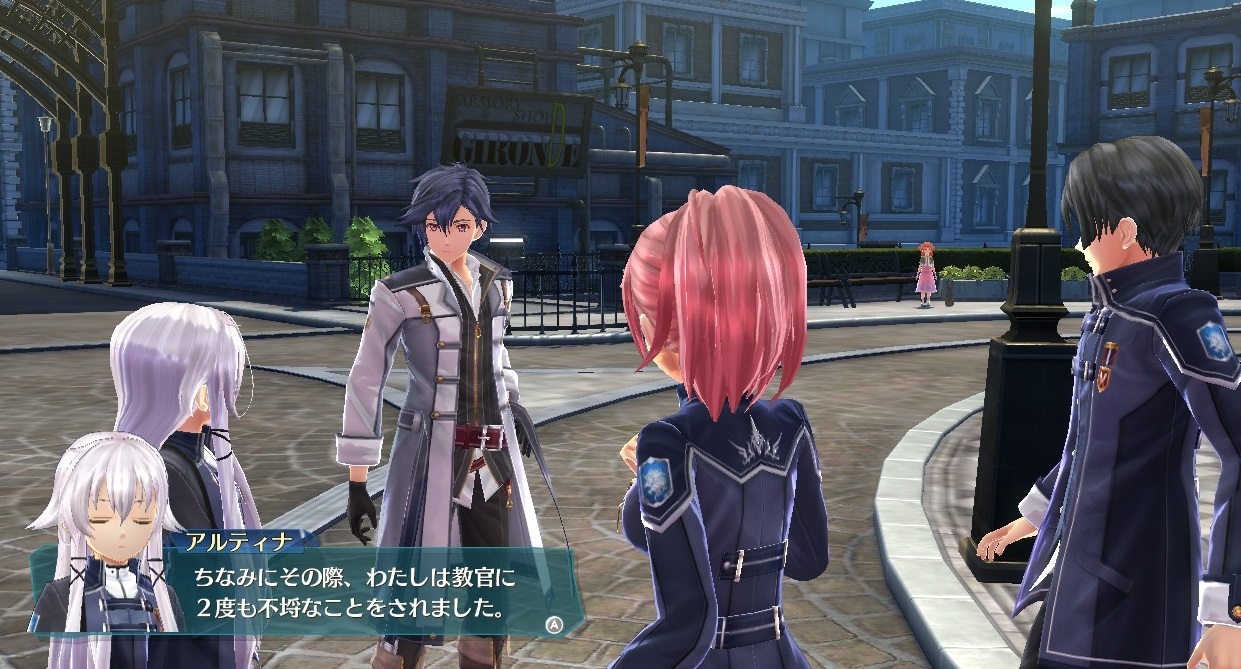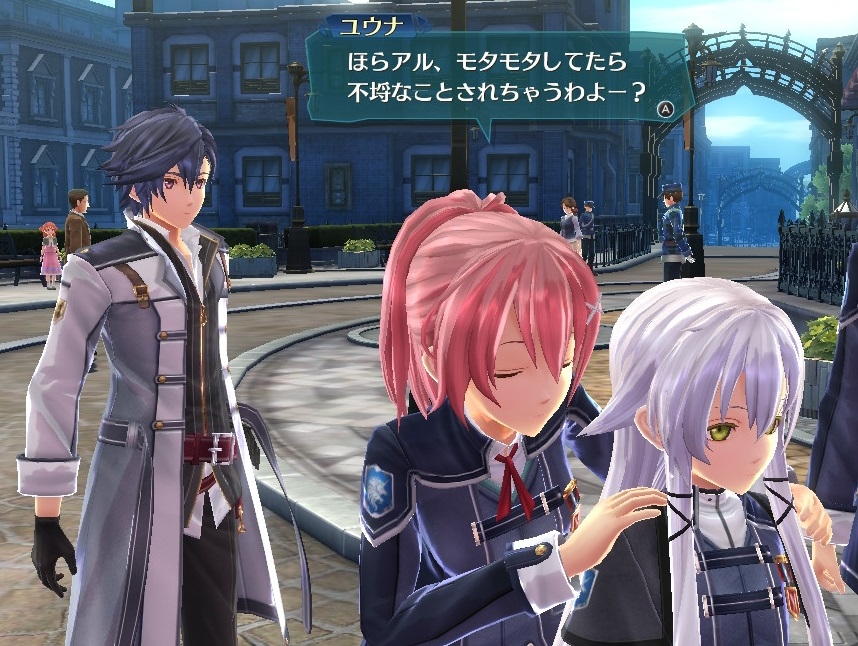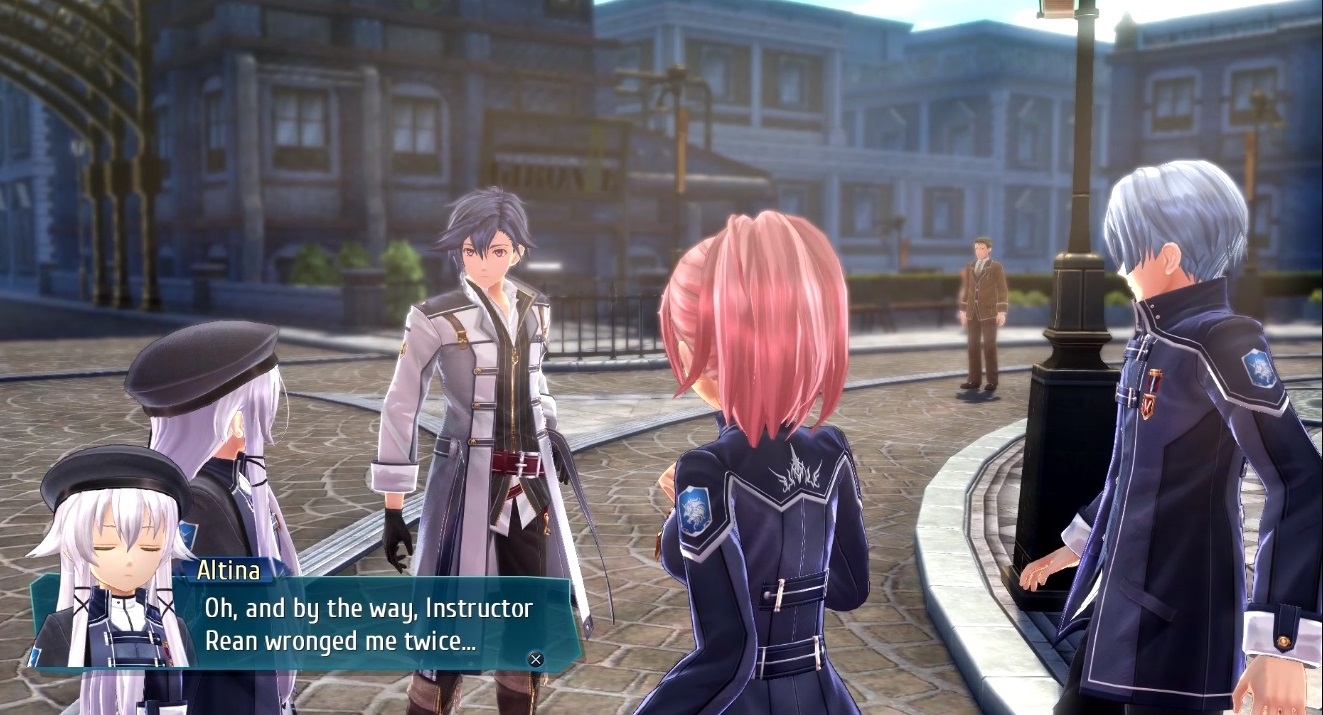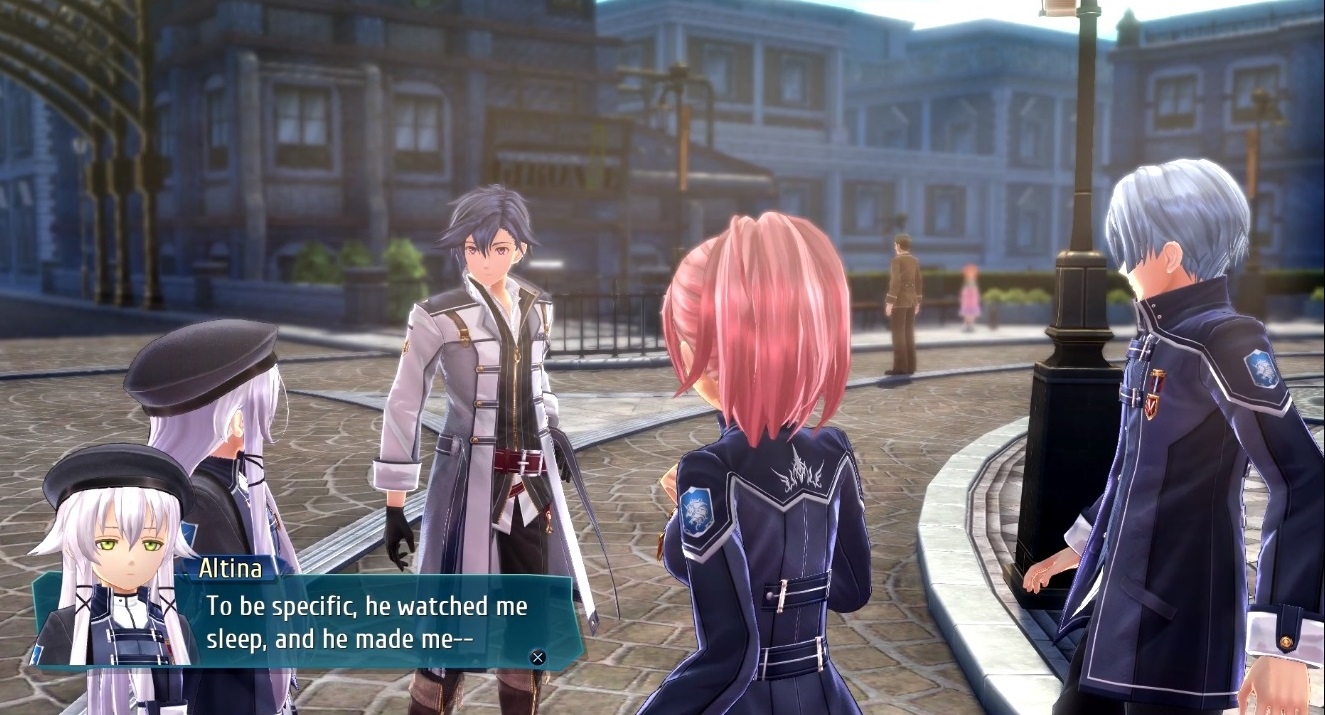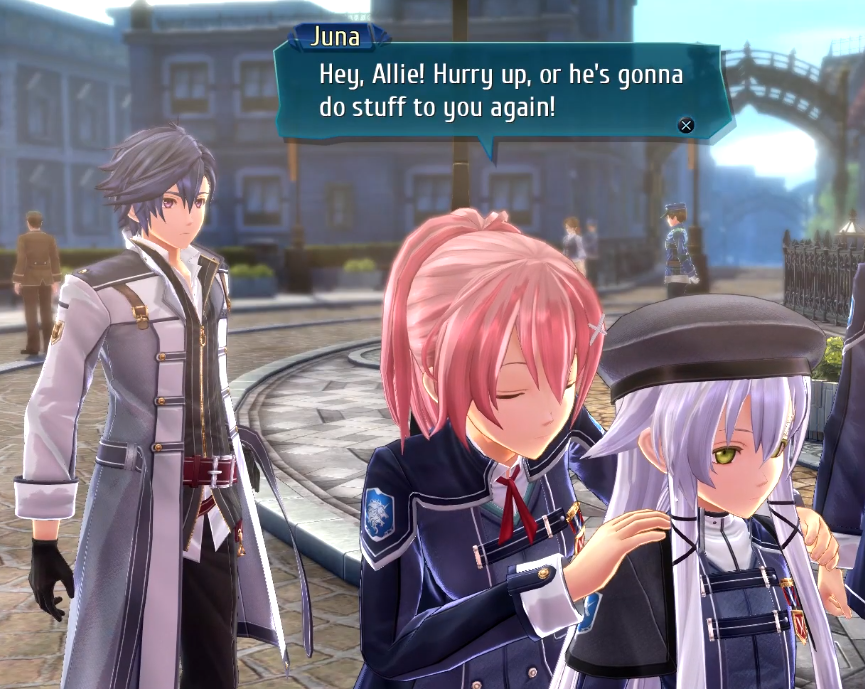 Context: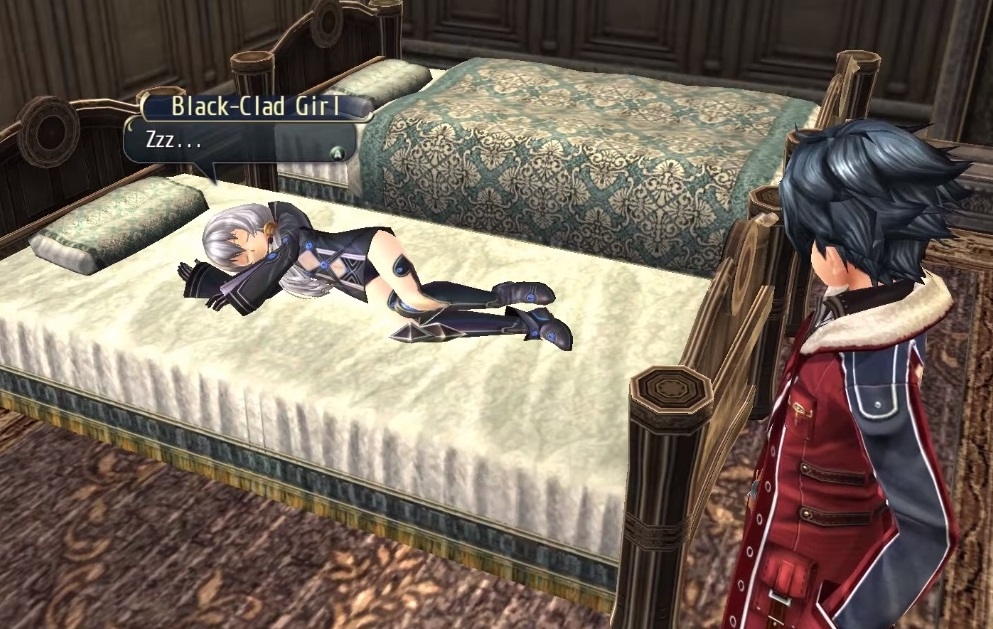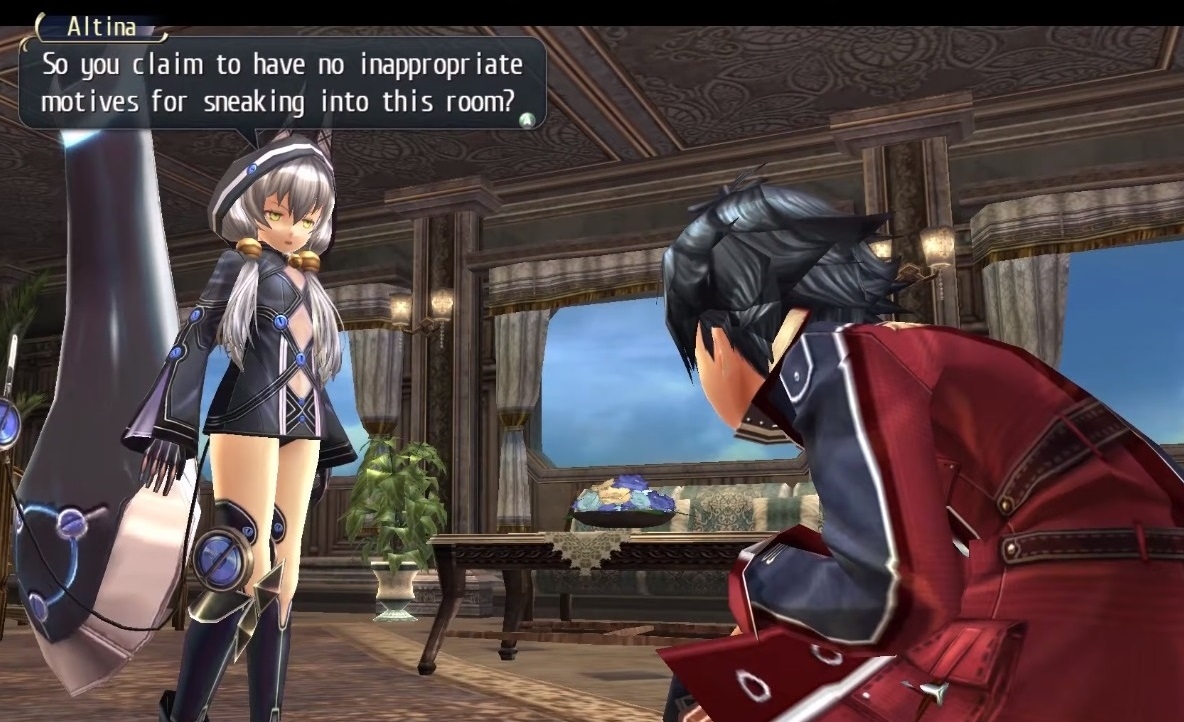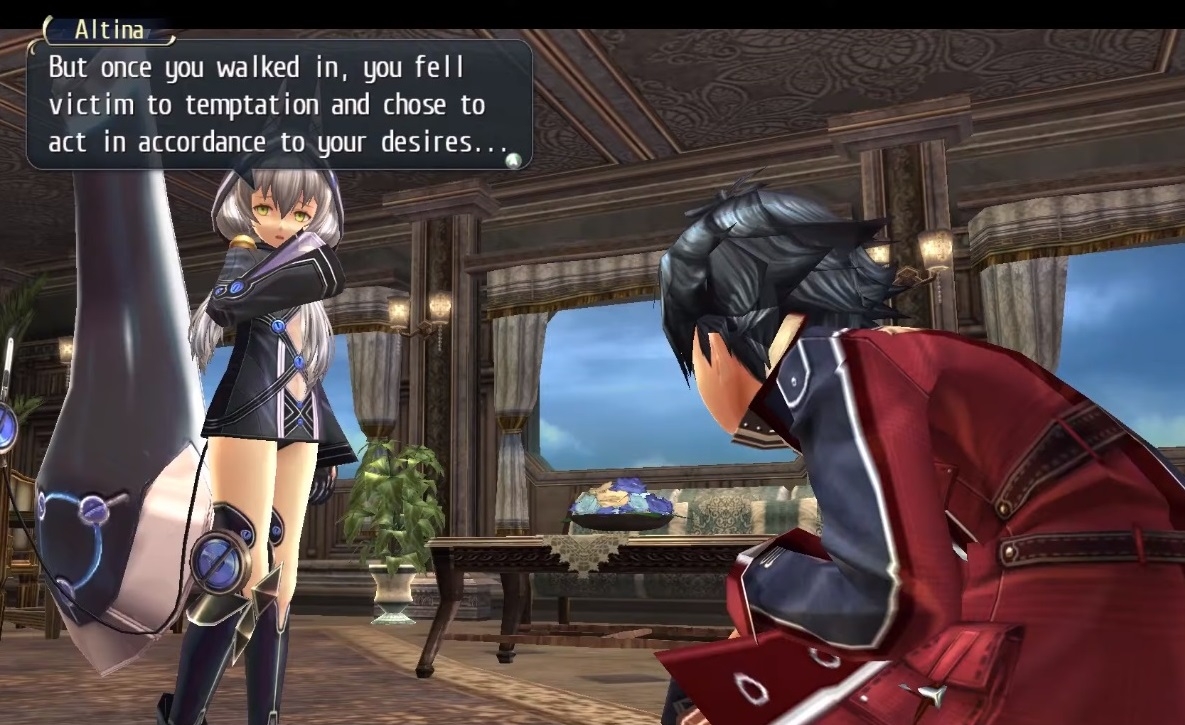 ちなみにその際、わたしは教官に2度も不埒なことをされました。
具体的には無防備な寝顔を見られ、あられもない格好にされました。
ほらアル、モタモタしてたら不埒なことされちゃうわよー?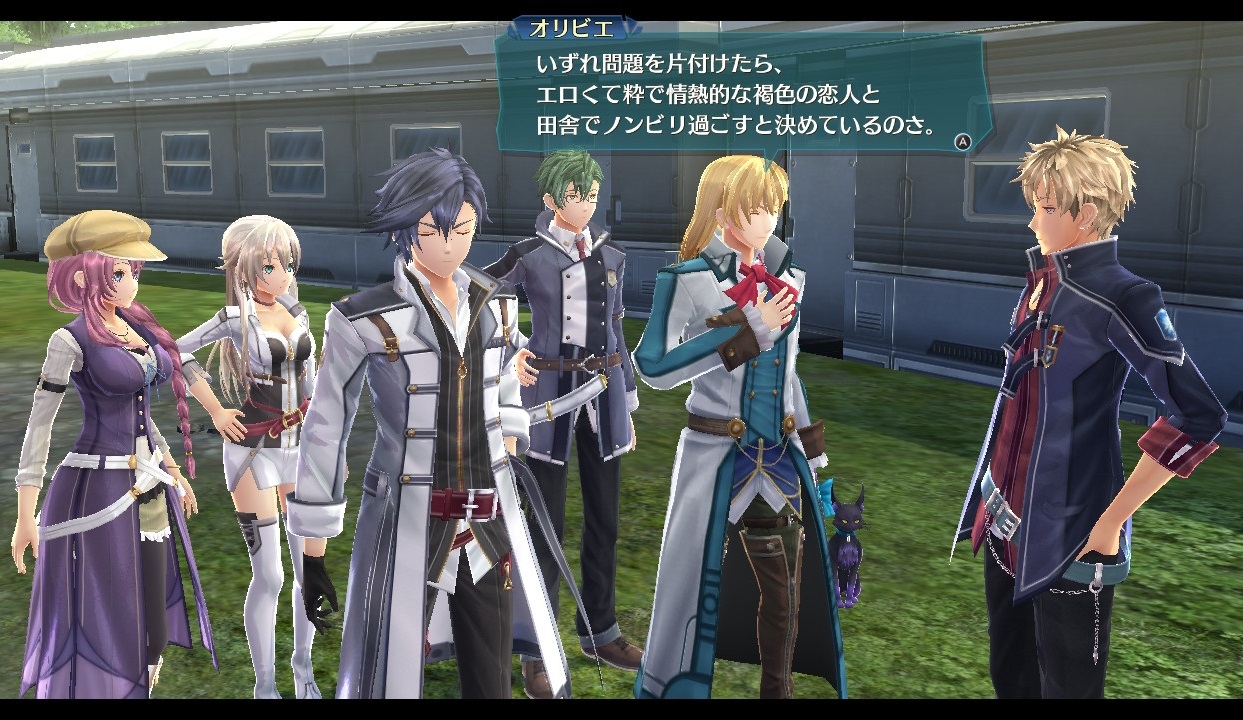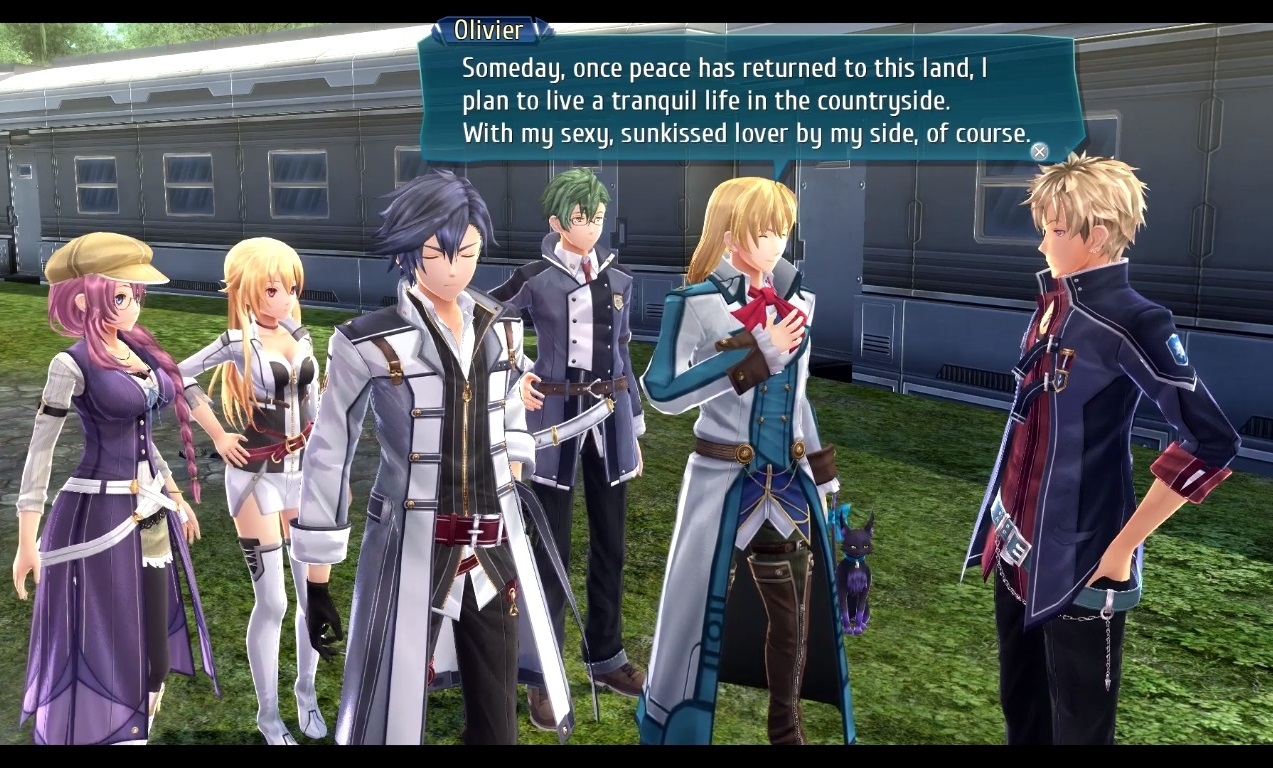 いずれ問題を片付けたら、エロくて
粋
で情熱的な褐色の恋人と田舎でのんびり過ごすと決めているのさ。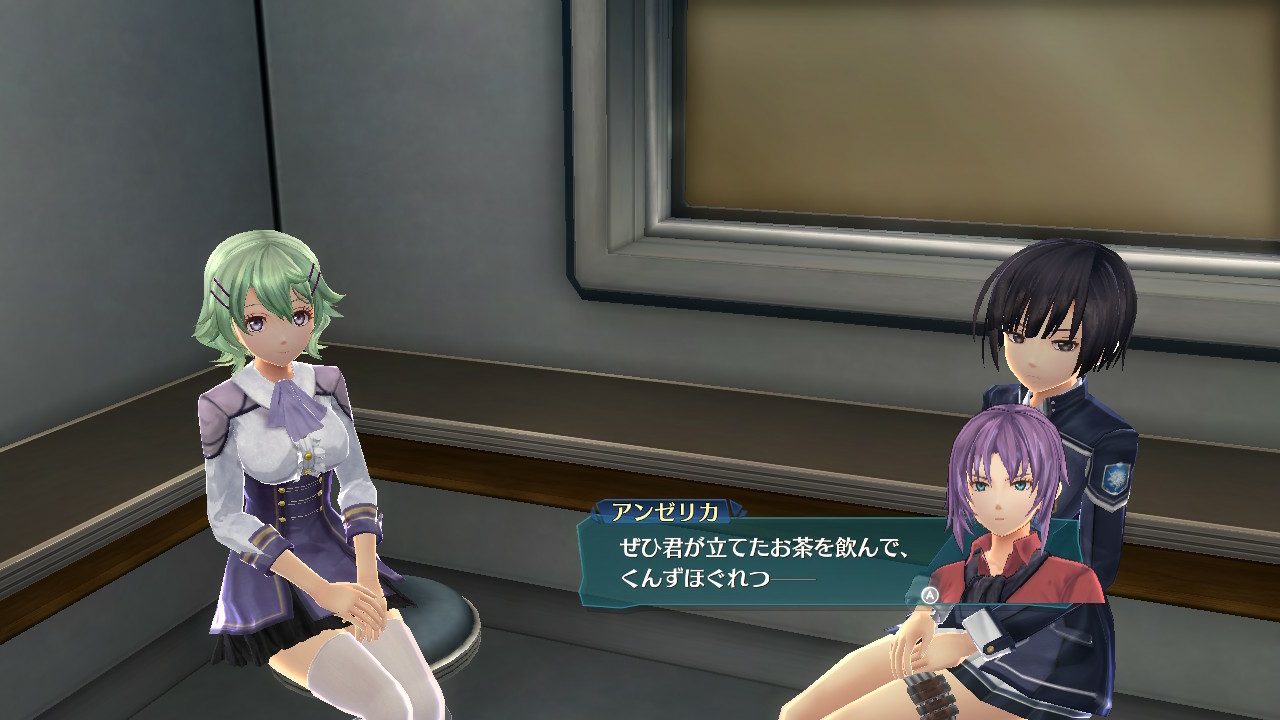 ぜひ君が立てたお茶を飲んで、
くんずほぐれつ
ー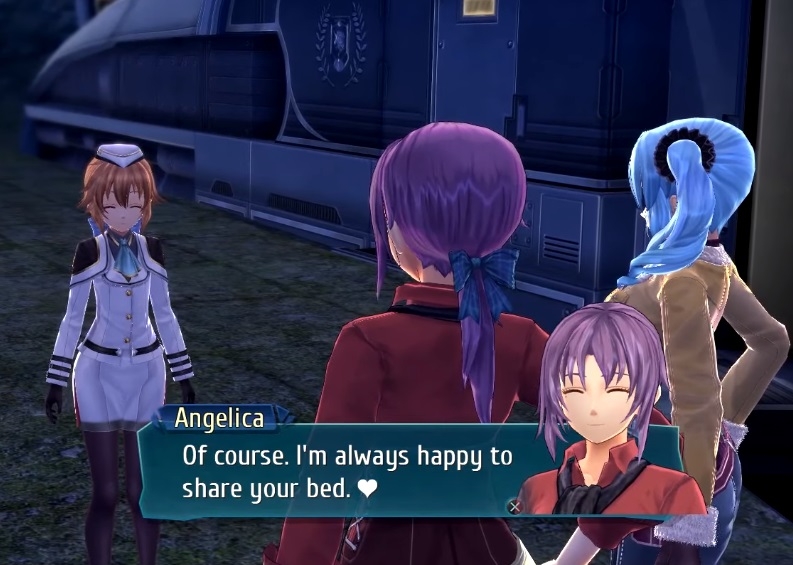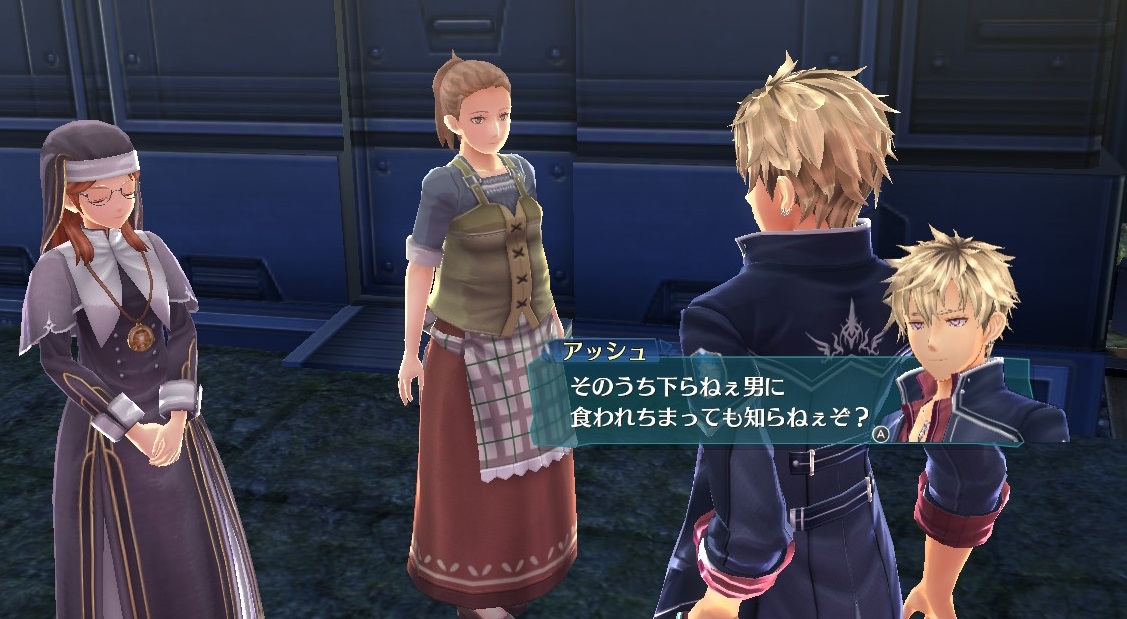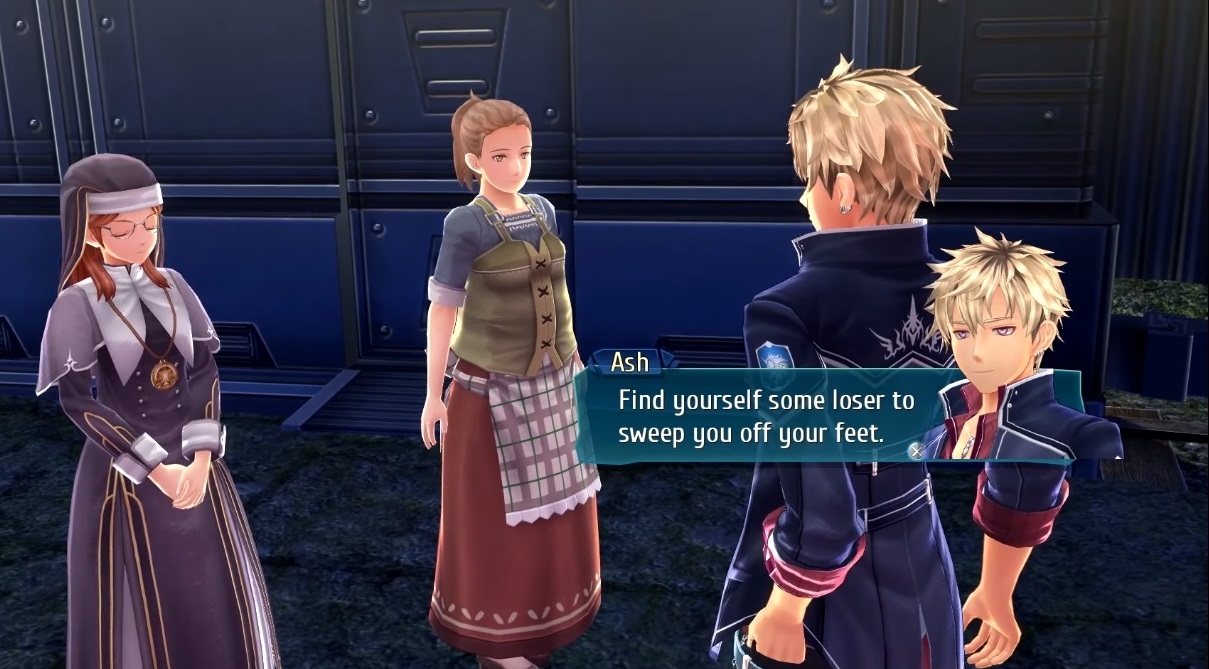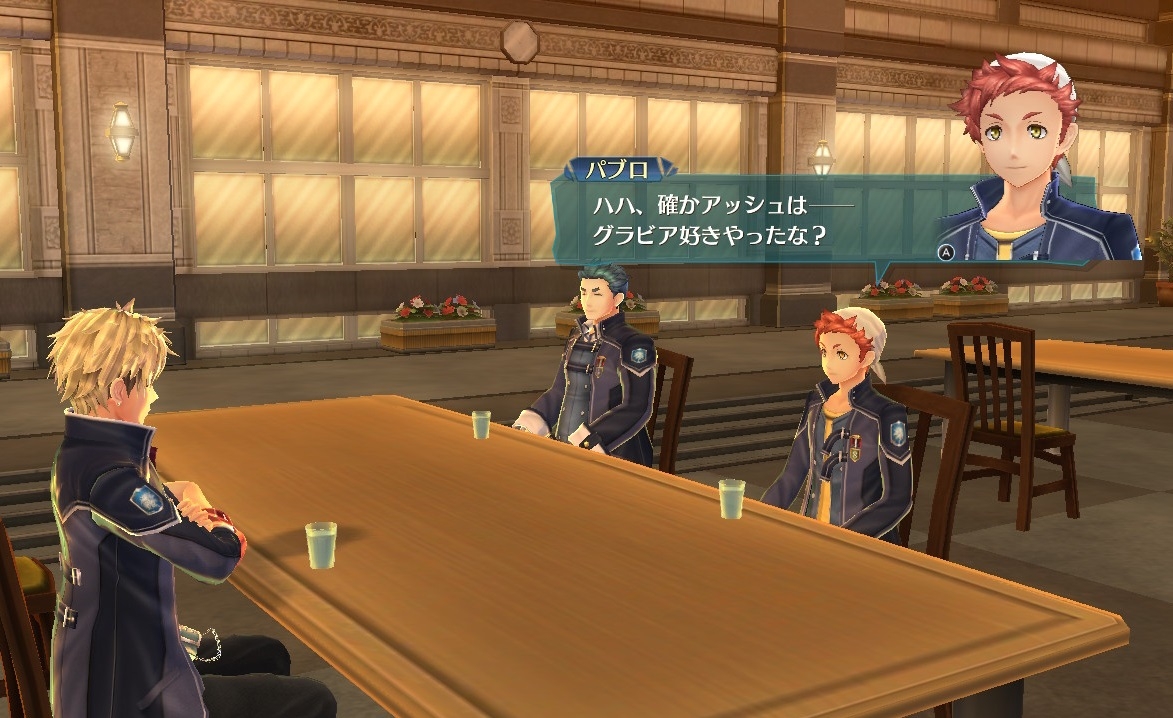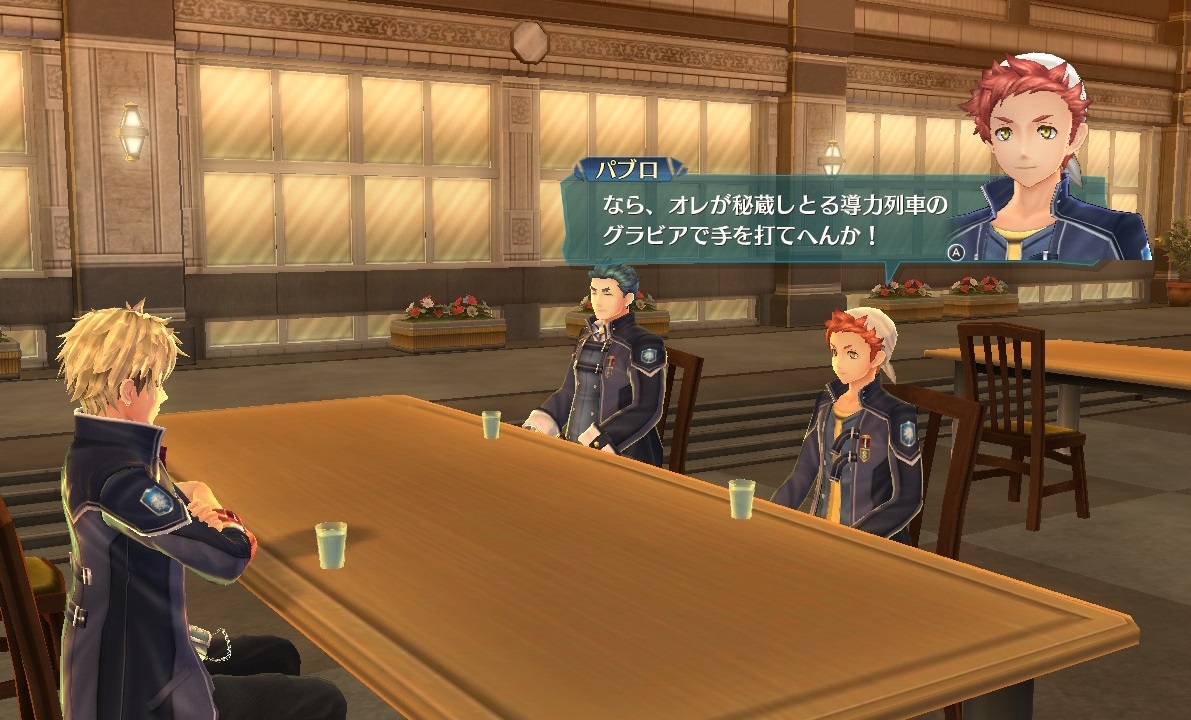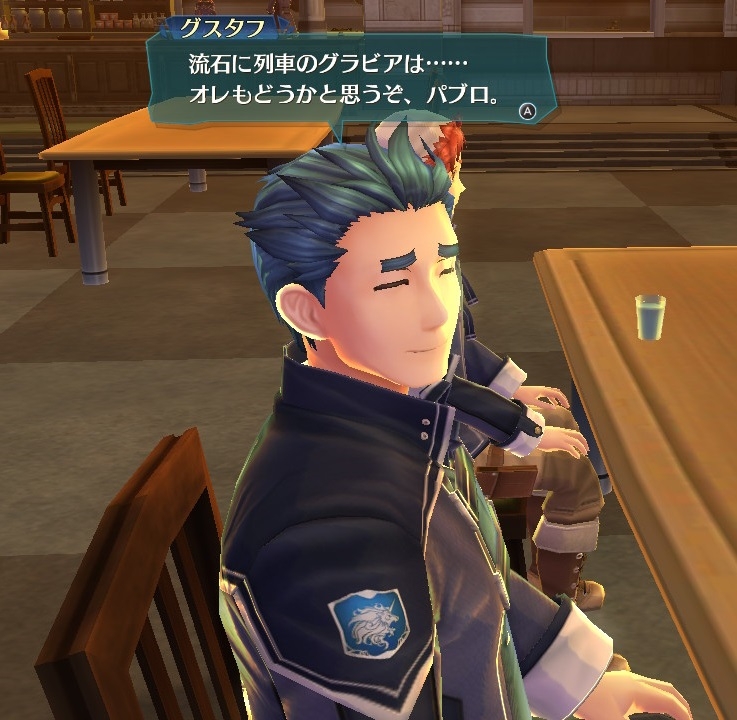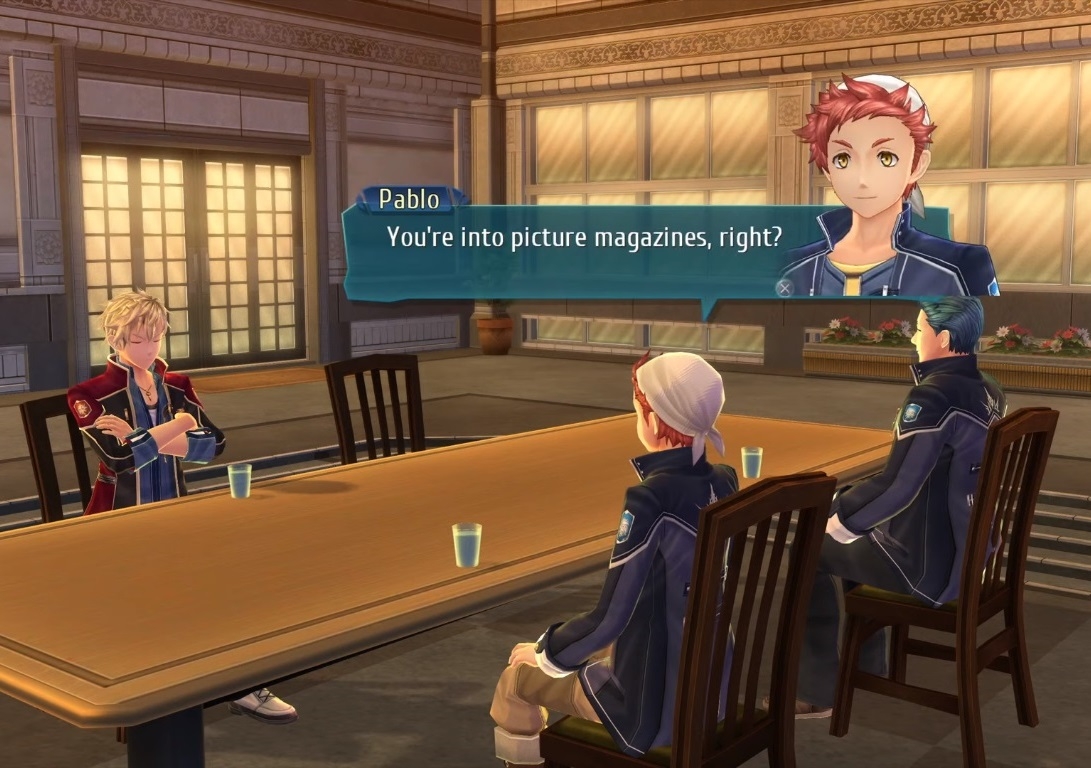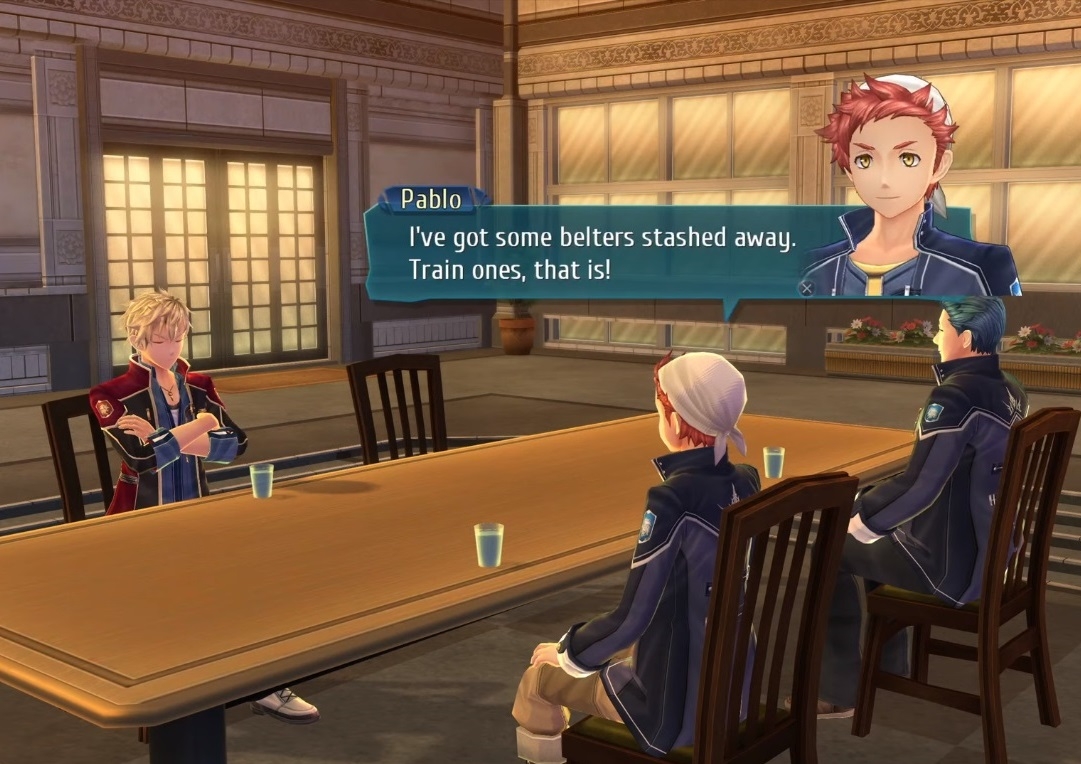 Note:
I'm unsure about these, so I'll leave them like this for now.
[Sorry if there are any mistakes, I'm not a professional translator]
[JP Screenshots are next to the title of each example, click on them to expand]
Last edited: